Koshari C. Abdo: Koshary Master in Dokki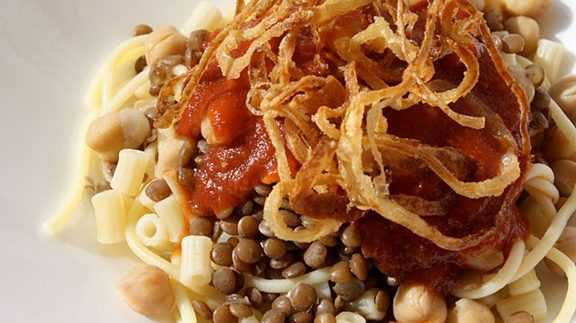 This beloved dish, which translates to 'an unlikely mixture', is a dish that is typically either loved or loathed for its seemingly strange amalgamation of ingredients. Due to its uncanny ability to stave off hunger for hours, we tend to lean towards the love-side of things. Furthermore, how can one resist a bowl of warm carbohydrates in the winter, anyway?
Located on Tahrir Street in Dokki, diagonally across from the towering Faisal Islamic bank, the old branch of Koshary El Tahrir has now reopened as Koshari C. Abdo. You can't miss this two-story restaurant with its bright lights and sign boasting a cartoon image of who we presume to be Abdo himself: a round-bellied chef with koshary on his platter.
You'll find the place to be roomy on the inside with plenty of tables located both upstairs and down. With the exception of its grand opening, we've never seen the place completely packed, so enjoying your bowl indoors is usually an option.
Accompanied by its fake greenery and simple décor, it doesn't stray far from that quintessential style of most koshary places around. It does differ, though, when it comes to cleanliness. Their sparkling floors and counter tops keep our sanitary worries at bay.
Ordering is simple. Once you enter, place your order with the cashier on the left and head to the back counter with your ticket. The staff's efficiency and friendliness makes for a hassle-free experience – five minutes has been our maximum wait time.
Abdo's menu is straightforward and contains the two main dishes that koshary places excel at: koshary and rice pudding. The koshary comes in an array of sizes starting at 3LE up to 15LE-20LE for family-sized portions. Its base is served fresh with piping hot sauce, the onions fried to perfection and Abdoo's unique touch; an over-the-top amount of cumin atop the lentils. Cumin isn't an irregular ingredient in koshary but Abdo's generous portion gives the dish a wonderful kick.
If you can stomach it, Koshari C. Abdo doesn't joke around with the rice pudding either. For 3LE, it's creamy, sweet and takes the cake on many other rice puddings we've tried previously.
If you find yourself with a hankering for koshary, Abdo is sure not to disappoint.