Koshary Hind: Heliopolis' Best Koshary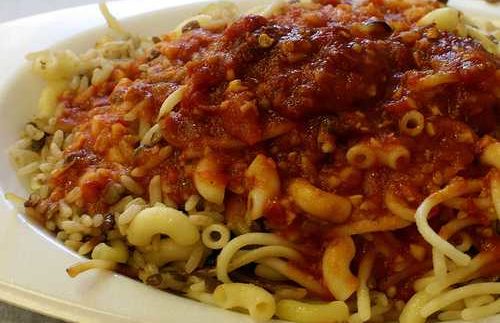 If you ask any Heliopolis
native where to go for a good local koshary, 99 percent will tell you Koshary Hind. As
one of the least expensive places to eat in Korba, Koshary Hind is the restaurant
that the masses flock to for a dependably delicious hot plate of koshary.
The cosy Korba location consists of two rooms. The
large takeaway section, the cash register and three dining tables take up most
of the first room, while the second room holds about half a dozen tables and a
sink to wash your hands in. The dining rooms are clean and well-maintained, but
the loud Koran recitation playing over the sound system is so distractingly
loud; that it's quite difficult to carry a conversation.
As one can expect from one of the most well-regarded
koshary chains in our fine city, Koshary Hind is one of Cairo's best, though it
has its strengths and weaknesses. Service is swift: in less than five minutes,
your order will be taken and your koshary will be served. Noodles and rice sit
under garlic-spiced lentils and loads of freshly fried onions and a dozen chickpeas.
The tomato sauce arrives separately. The lemon vinegar sauce and hot sauce are
present at the table and can be added to the customer's content.
The first thing that sets the koshary apart at Koshary
Hind is the large portions of chickpeas that are served, which are about three
times more than what you might find at other koshary joints. However, the chickpeas
can be quite hard and seem undercooked.
No complaints about the noodles and rice; they are
perfectly al dente. The tomato sauce tastes incredibly fresh and chunky. It's a
nice touch that the tomato sauce is served on the side, unlike many places that
drown their koshary dishes in the sauce. The extra serving of crispy fried
onions really hits the spot and adds a nice crunch to the plate of tender
macaroni and rice.
The mahalabeya is a fine treat to finish the koshary
off with. It's not overly sweet, like many mahalabeyas are; making it a light
and enjoyable dessert.
Koshary is served in quantities for 3LE, 5LE and 7LE. The
portions also seem slightly smaller compared to Downtown koshary kings like
Abou Tarek and Koshary Tahrir. A five-pounder, which we usually can't finish
elsewhere, left us feeling satisfied but not overly full.