La Bodega Aperitivo: Sophisticated Italian Cuisine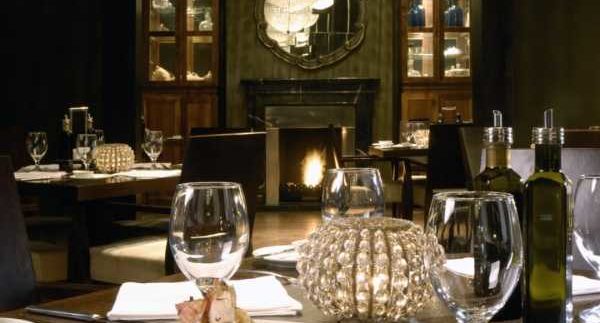 One of Cairo's most popular nightspots and
restaurants is La Bodega Aperitivo, which on any given weekday has a full bar
after 10PM. Its chic dining section was created with the goal of encouraging
diners to enjoy after-work drinks and an early evening dinner, though Cairo diners may be a
little difficult to sway and the restaurant rarely gets packed before 9PM.
For an appetiser, the Carpaccio si manzo
con foglio di parmigiano (55LE) is a layer of thinly sliced Carpaccio beef on
a bed of ruccola, topped with large slices of parmesan and drizzled with a
strong Dijon
mustard sauce. The sauce did rather drown out the Carpaccio, and most diners may be accustomed to a more subtle dressing to enhance the meat's flavour; but it was quite tasty nonetheless.
The parmigiana di melanzana (48LE) didn't
fare as well: grilled eggplant stylishly piled on top of parmesan and Italian
buffalo mozzarella and drizzled with fresh tomato sauce looked great, but
tasted only adequate. There wasn't enough flavour in the interesting
combination, and much pepper and salt had to be added to make it edible. The insalata mista (28LE) is a simple green salad with balsamic vinaigrette: the
portion is healthy and enough for two people, but it needs a stronger kick to
the balsamic.
For the main course, the fillet di
salmonella (75LE) is a very well-cooked fillet of salmon with green pepper
corn, mashed potato and broccoli. It's hard to find well-made salmon in Cairo, especially since
most restaurants cook it too dryly; but here it was just pink enough, with the
salmon's juice mixing nicely with the subtle sauce. The risotto al nero di sepia
con gamberoni (82LE) is another popular choice: the black risotto is
perfectly cooked; not too soggy and not undercooked. The risotto blends
perfectly with the shrimps, which are perfectly flavoured and cooked just
right. A generous portion of calamari makes this dish a heavenly seafood
experience.
The osso bucco con risotto alla Milanese (95LE)
is made of tender Australian veal shank with saffron risotto; and will leave you sighing in deep satisfaction. The tomato sauce's sweetness
complements the risotto's saffron flavour, making it another winner at the
table.
If you're feeling stuffed but not defeated, try the chocolate volcano (25LE) to share, which comes with a generous dousing of hot
chocolate sauce and a small pastry cup of mint ice cream. The hot and cold
work perfectly together, as does the mint with the rich chocolate cake. A dinner for two, including drinks,
appetisers and dessert, will set you back around 350LE.
Elegant, sophisticated and almost always
packed on evenings, Aperitivo makes for a perfect dining destination with your
friends when you feel like dressing up to the nines and enjoying gourmet
Italian cuisine.