La Boutique: Enormous Dishes in Dokki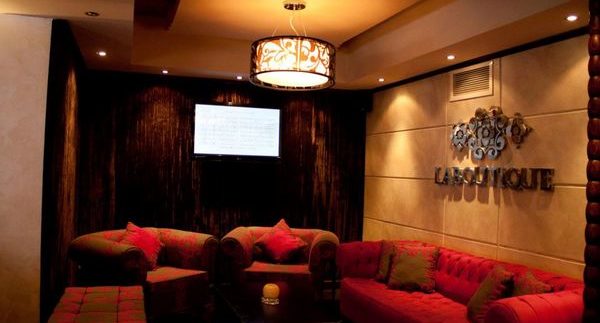 Being lovers of boutiques when it comes to shopping, when we spied one in restaurant form, La Boutique in Dokki's Amman Square, we sauntered in for dinner. First, we were drawn in by the boudoir-type furniture's contrasted with its modern colour scheme of pink, gold and grey floral patterns.
After looking a little closer however, we realised the furniture and the paintwork were actually a little chipped and tatty. Nonetheless we graciously took the bulky, purple and pink laminated menus from the waiter, noticing that they wouldn't suffer from a wipe from time to time.
We waded through an abundance of soups and appetisers, pastas, pizzas, salads, burgers, meaty grills and sandwiches – the list was seemingly endless. We were baffled by the amount of dishes that came with 'La Boutique's special sauce' and so committed ourselves to unravelling the mystery of its ingredients.
We overlooked all the tempting coal grills and the Egyptian starters and jumped straight into the mains with spaghetti bolognese (39.50LE) and a tuna Niçoise salad (34.75LE) covered in the intriguing sauce.
The drinks menu was also vast, with countless fresh juices, frappuccinos (17.95LE-28.95LE), sodas, cocktails and hot drinks. We noticed they even sell hot cinnamon with milk (13.95LE), which we imagine would be amazing on a cold evening.
However, we went for a Sunshine cocktail – a grenadine and Sprite mix – and a Florida cocktail (20.95LE each) – a mixture of mango, guava, orange and mango juice. The Sunshine tasted as we expected, whereas the Florida was possibly better than said expectations; it was thick, fresh, sweet and flavourful all in one.
Despite being the only two customers, the food took a long time to arrive and although the friendly waiter was extremely apologetic, this didn't help silence our rumbling tummies.
Luckily, the portions were enormous enough to make up for the wait. The Niçoise salad was delicious, filled with pieces of potato, green beans, bell peppers and boiled eggs. Much to our relief, the sauce turned out to be a pink, Marie-rose salad dressing which was basic but delectable. The spaghetti bolognese, topped with parmesan shavings, was also large but overly salty and didn't have enough tomato – sadly, we have yet to uncover the perfect bolognese dish in Cairo.
By the time we'd finished, we were too stuffed to order dessert and even took the remainder of the Niçoise salad home.
The food was simple and the portions were large so we probably would return for a chilled out visit. Next time we'd also be inclined to try their extensive shisha menu which ranges from straight forward flavours (10LE) to exotic, fruity ones (19LE).