La Casetta: Old Cairo's Take on Classic Italian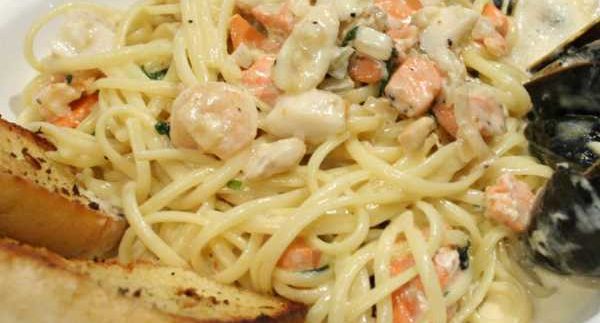 Although
this quaint Italian eatery has been a Friday lunch family classic in Cairo for decades, we
weren't introduced until recently, when encouraged to duck inside the red
chequered awning by a fellow diner.
The
décor has apparently been untouched since the mid-1980s. Dark wood straight-back chairs are stationed
around the several tables, while a mahogany bar greets you at the entrance. The
bottle-stained glass windows add to the feeling of an aging ristorante, while
the speakers played a curious soundtrack of Sinatra tunes such as 'It's Amore'
accompanied by the tabla.
On
this visit, we were one of two parties seated. While the staff held a whispered
conference near the bar– presumably over matters of business– two waiters took
turns in earnestly taking our orders and filling water glasses.
We
began the meal with an order of the caprese salad appetiser (24LE). Arriving at
our table with a basket of stiff, toasted garlic bread, the 'fresh mozzarella'
tasted more like a halloumi-mozzarella hybrid. Tomato and cheese slices sat
atop a bed of ordinary lettuce. While the appetiser was not the fresh
basil-tomato-mozzarella we had foolishly dreamed of, it made a fine snack when
compiled into some sort of an open-faced sandwich.
Apparently
in the mood for something from the sea, our table selected the spaghetti smoked
salmon (36.95LE) and upon vehement recommendation, the seafood special (65LE), which
the waiter good-naturedly accompanied with a side dish of plain linguini pasta instead
of the customary rice. The spaghetti smoked salmon arrived swimming in the pale pink, cream-based
sauce; a gratuitously heavy blend of smoked flavour that didn't overpower the
taste of fish.
The
seafood special arrived baked in an open-faced porcelain tureen. Beneath the
gently browned surface, the cheese-based dish was satisfactorily stuffed with
prawns and tender calamari. We were rescued from its overwhelming richness by
the several slices of lemon that accompanied the entrée, and when diluted with
the coils of plain linguini, it created an appealing balance of citrus, shrimp
and garlic spice.
As
is to be expected, the menu covers a healthy assortment of pastas– from
bolognaise to arrabiata– along with main course options of chicken, steak,
salmon, calamari, prawns and more. Side dishes of rice, pastas, salad, mashed
potatoes and French fries are also offered.
This
is not to say that the restaurant's normality makes it blasé; rather, La
Casetta keeps its olden-day charm by cutting out the frills and letting diners
cosy up to a hearty meal, as they've been doing for generations.