La Maison Blanche: Fantastic Winter Wonderland at the First Place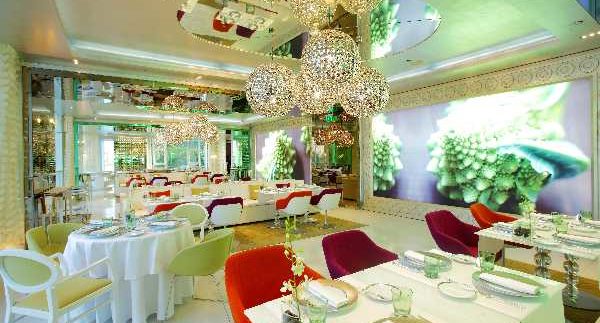 "Welcome to La Maison
Blanche" is the greeting bestowed upon guests as they enter the designer French
restaurant at the Four Seasons' First
Place in Giza. That and a giant black horse, whose sole purpose
is to display the lamp shade above its head. Thankfully, this is the lone, truly bizarre element in Didier Gomez's imported
French designs.
From the warm glow of the
elegant fireplace in the Cigar Lounge to the dining room's disco-ball petal
chandeliers, or even the toilet's fuchsia appliqué-floral walls– no detail has
been spared in the fabulously stylish venue. The eclectic combination of modern and art-deco motifs risks being
ultra-tacky but makes every room distinct. Mirrors everywhere, including the
ceiling, make an already vast space even grander.
Our attentive waiters stepped
into play at our intimate table for two, bringing us still water served in a
square, silver decanter and hot towels to wipe our hands on. They offered a
selection of delectable crispy and flaky rolls with light, flavourful herb
butter, before presenting shiny, silver menus and leaving us to discover what
they had in store.
After reviewing the tasting
menu, which seemed to highlight their specialties, we decided on three courses. We started with the smoked salmon soup served
with scallops and asparagus; and the ravioli au foie gras. For our main course,
we selected the Australian rack of lamb with hazelnut crust, Anna potatoes and
Forestière sauce and the roasted veal tenderloin in cocotte served with
autumns' vegetables.
While waiting for our
appetisers, we enjoyed the bottomless bread and butter basket accompanied by a
salmon amuse-bouche that was continuously refilled thanks to the fast and
seamless service. The appetisers arrived just as swiftly: the smoked salmon
soup was poured dramatically onto a plate of three large scallops with sprigs
of asparagus. The ravioli au foie gras was
drenched in rich, mushroom-infused sauce. Both appetisers were creamy and divine; the scallops were tender and the
ravioli delicate.
Our main courses were just
as impressive: the roasted veal tenderloin and the Australian rack of lamb were
cooked to perfection with tasty, roasted vegetables.
For dessert, we shared La
Maison Blanche lingot-au-chocolat, which was recommended by our waiter. The combination
of thick Valhrona mousse and praline chocolate bar garnished with gold leaf was
heaven.
A sixth course of
complimentary flavoured chocolates, macaroons, marshmallows and Turkish delight
left us thoroughly impressed.

The
genuinely friendly servers were wonderful; they made the experience
unpretentious and welcoming. At 800LE for a dinner for two minus wine, we received
the exceptional food and excellent service that we would expect for such a
price tag.