La Pietra: Great Shisha, So-So Food in Mohandiseen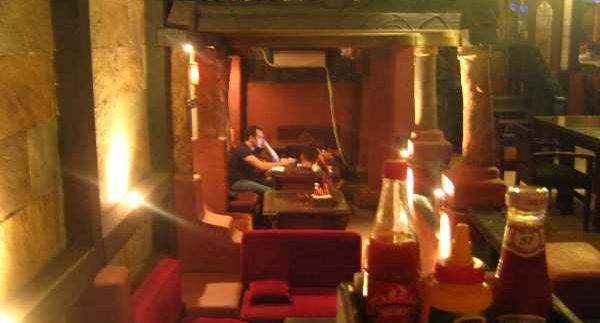 Located
across from funky home accessory shop Kare and Ulla Popken in
Mohandiseen, La Pietra has been a favourite destination for many young Cairenes
for many years now.
It's the type of café/restaurant that attracts the student
crowd ranging from the barely-high schoolers all the way up to university
graduates. Older patrons may return here for the sense of nostalgia for the
golden years spent in study groups, or playing backgammon over long shisha
sessions.
Decked out
in a mud-brick colour scheme using rough wall etchings and Mexican colours of dark
green, mustard, and earth brown; La Pietra somewhat resembles Taboula or Abou
El Sid. The same large, old stone flecked stone tiles line the floors; the
bathrooms have dark ceramic bathroom tables and bronze faucets; and
there's an overall forced rustic sense to the whole place.
People come
to La Pietra mostly for its shishas, which are especially yummy and thick in
smoke- the guava and apple come highly recommended. Shisha smokers are confined
to the outdoor terrace area, which is usually packed on weekday nights, featuring comfortable cushioned wooden seats and a rather obscured view of the street in all its parking attendant glory. If you prefer a rather quiet
atmosphere; head indoors, where solitary studiers and laptop workers take refuge. This
is also where your food is served.
Offering a
variety of soups, salads, sandwiches and main courses, La Pietra makes great,
though rather basic fried mozzarella sticks (24LE): a serving portion of six
sticks come with a spicy marinara sauce. We've also been told that their garlic cheese bread (22LE) is another great appetiser option, mixing mozzarella with gouda
and oregano on top of baked pizza bread.
Though many
regulars stick to La Pietra's pastas and pizzas, their main courses of chicken
balsamic and mango-curry chicken are also favourites. The rosé farfalle (40LE)
is a gigantic oblong dish of farfalle pasta with beef slices and sliced
mushrooms in a creamy tomato sauce. While the portion was far too huge for one
person and could easily last two meals, we would have preferred more flavour in
the beef and fresh mushrooms instead of the canned cubes in our sauce.
Favourite
pizzas include the La Pietra pizza or the quattro fromagi (37.50LE), which
mixes mozzarella, with smoked and blue cheese as well as oregano on a thin
pizza base. Though the pizza didn't have enough tomato base sauce, the flavours
of the melted cheese worked nicely, producing an interesting mix of sweet and
smoked tones.
For
dessert, we were hoping to be blown away by the chocolate fondant (26LE), which
took eighteen minutes to prepare and seemed an exciting treat at first glance; but
its melted chocolate sauce tasted disappointingly of cocoa or of Corona chocolate, which just didn't work in this dessert.
Wash it
down with one of La Pietra's quickly prepared cocktails, such as the lemon and
mint (13LE) or the sunshine (13LE); and we've also heard good things about their
peanut butter and snickers milkshake.