La Trattoria: Joyful Elegance at a High Price
13 Mohammed Maraashly, Mohammed Mazhar, Zamalek

One thing we always look for at any restaurant, is for the place to prepare every dish as if it were the best one they have to offer.  Trattoria understands this concept very well. Located in Zamalek, La Trattoria's dining area is saturated with framed posters of renowned classic films, as well as framed posters of instantly recognizable Italian stars. Speaking of classic, the soft jazz music playing in the restaurant's background, and the restaurant's dimmed lighting, strongly contributed to the restaurant's overall vintage Italian vibe.
Once we walked in, we were met with warm greetings. The restaurant's hospitality continued throughout our meal, with every wait staff member making his/her sincerest efforts to provide a high caliber of service. The wait staff was also very helpful, especially when it came to recommending dishes. 
The real delight, however, was La Trattoria's Italian menu; offering a variant array of Italian appetizers, and an equally large range of main courses, it was difficult to choose a single dish from each of the sections. At the end, we opted for their Tomato Basked Octopus Salad with Olives and Capers (120 LE), and their Shrimp Salad with Arugula and Cherry Tomatoes (120 LE). While the former instantly whisked us away with its overwhelming tomato flavour and spicy tinge, the latter overwhelmed us with the Arugula's freshness . We have to say, however, that the Tomato Basked Octopus Salad was this round's winner. The Shrimp Salad could have been an equal contender, had it contained a larger serving of shrimps (it is after all a shrimp salad). 
As per our main courses, we opted for a classic medium cooked Tenderloin Steak, served with a side of fried croquette potatoes, and dijon mustard sauce (280 LE), as well as their Pan Roasted Salmon Fillet, served with hazelnuts, Beurre Blanc, and a side of wedges (300 LE). The steak was beautifully tender at its center, and crisp near its edges. The dijon mustard proved to be the best dipping partner for this steak, as it accentuated the steak's meaty flavor and perfect texture.  The steak's exquisite taste, was only carried forward by the Pan Roasted Salmon Fillet. Unlike the Shrimp Salad, this dish did not skimp on any ingredients or spices. Seeing that salmon is in general a very difficult protein to cook, we were pleasantly surprised to see that it was neither under cooked nor overcooked. We also have to say that both plates were served hot.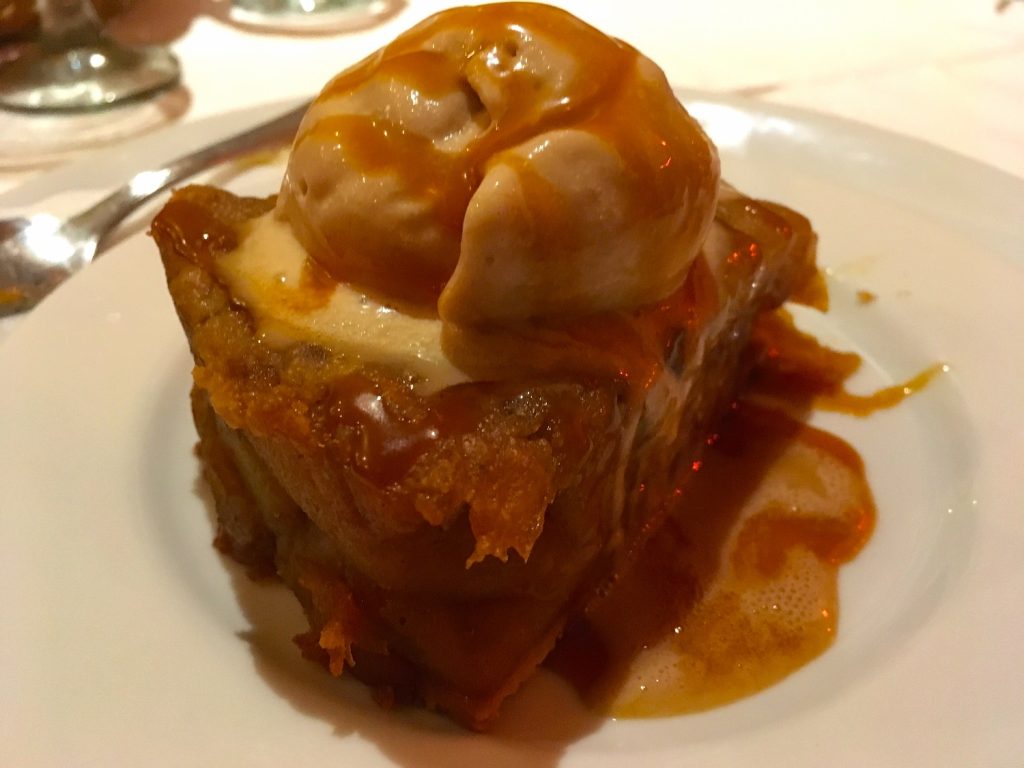 As for dessert, we opted for the Caramel Covered Apple Tart (70 LE). The apple tart was served hot, and was topped with a scoop of cold vanilla ice cream. Upon our first bite, we fell in love with these contradictory – yet complimentary – elements of the dish: the tart's smooth warmth was only accented with the vanilla ice cream's soft texture and cool temperature. This dessert dish quite literally melted in our mouths. We have to say, however, that not all the options on La Trattoria's dessert menu were available at the time of our visit. 
Overall, our experience at La Trattoria was a largely positive and memorable one. It should be noted, however, that their elegantly presented and perfectly cooked dished, and their excellent service, do not come at a cheap price.