La Veranda at Concorde El Salam: Boring Fetar Buffet
Concorde El Salam Hotel Cairo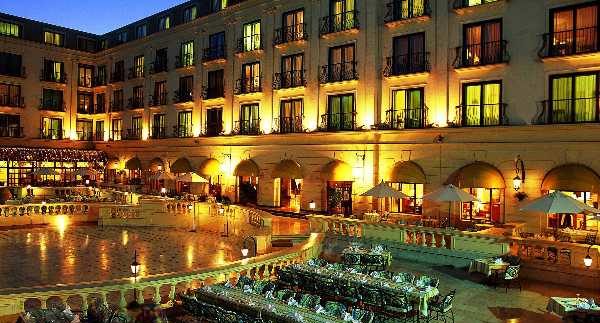 Oft forgotten, the Concorde El Salam
hotel near the Shams Club in Heliopolis
possesses an air of exclusivity reinforced by the tree-lined lane leading up to
the hotel from the main road. The building and its grounds are reminiscent of
an Austrian mansion– but for all its beauty, the results delivered at its outdoor
restaurant La Veranda's fetar buffet are sadly lacking.
The space itself is actually quite
attractive; the building is lit beautifully, and the smallish circular pool
sits between the two wings of the hotel, giving the entire area an amphitheatre-like
quality. As an aside, this is also the site of their 'Ramadan Night
Celebrations,' hosting Middle Eastern talent like Assy Hellani. Yeah, we don't
care, either.
At the time
of this review, the diners looked content enough tucking into the piles of food
in front of them, while the wait staff loitered about. This left the managers–
far too many of them – to tend to the needs of the diners. Because of the
beastly August humidity, we opted to sit inside at Café Jardin, which was
separated from the La Veranda buffet area by glass doors. Fears that we had
sacrificed service quality for seating comfort were assuaged by the attentive
managers– we counted three that came to our table to answer our questions and
deliver our orders.
The
clientele queued and cooed politely at the buffet stations, happily receiving
information from the immaculate station chefs on what they were piling onto
their round plates. All the great Egyptian classics made an appearance: koshary,
assorted grilled and slow cooked meats, chicken and fatta aubergine, baked
macaroni with béchamel and the obligatory dill and lemon mystery fish tray. The
selection is actually quite limited when compared to other hotel buffet
offerings, but in its conciseness lies its salvation. Some of the options
succeeded on a profound level, evoking images of buffet dinners eaten as a
child on summer holiday.
The essence
of the experience is one of outdated menu options and mostly mediocre food at
179LE per person, excluding drinks, tax and service. The only dishes that stood
out were the kebabs, the koshary, and a beef and vermicelli stew. This is a
buffet that an older generation may enjoy; but for something new or exciting
with even a semblance of freshness, you should look elsewhere.