Lai Thai: Terrific Thai Food at the Four Seasons Giza
Four Seasons Hotel Cairo at The First Residence

Noon - 4PM / 6PM - Midnight -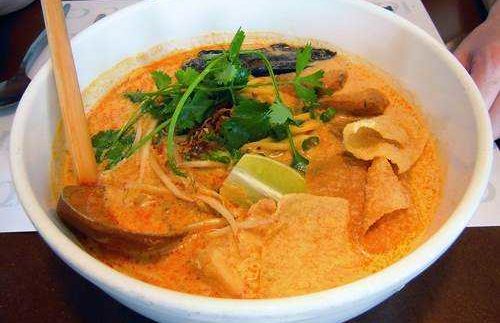 Ethnic food can be hit-and-miss in Cairo,
and when it comes to Thai food; there just aren't enough quality options. If
you're craving good Thai food in Egypt;
we recommend that you make your way over to Lai Thai at the Four Seasons in Giza. Laden with silk wall
hangings of gold leaf and other Thai artefacts, this restaurant offers
deliciously authentic Thai food that's worth its high price tag.
The appetiser sampler for two (120LE) is highly recommended. It consists
of five popular Thai appetisers, including chicken and beef satay, shrimp and
crab croquettes, marinated chicken wrapped in leak leaf, Thai saku dumplings
filled with chicken and peanuts; and minced chicken and shrimps coriander in
rice tartlets. We most enjoyed the tender meat satays served with chunky peanut
sauce, as well as the saku dumplings, which were like sticky rice balls filled
with finely chopped marinated chicken and roasted peanuts.
The mee lueng hang (90LE), stir-fried yellow noodles with beef and white
cabbage, was pretty yummy. It wasn't anything out of this world, but the
noodles were well-cooked and fried with oyster sauce and sweet chilli paste.
The beef was noticeably tender and a good cut of meat.
The talay phad phong ga ree (105LE), a plate of stir-fried scallops,
calamari, and shrimps in yellow curry, is one of the best curries that we've
had. The super fresh seafood was cooked with red onions and slices of red hot
chilli pepper. If you don't like your curry hot; don't eat the pepper! The
entrée is served with freshly steamed rice. The yellow curry was so fantastic;
we continued to eat it after the seafood was gone. It was well-spiced, creamy
and full of flavour.
The caramelised Thai pumpkin custard (32LE) dessert is to die for. It's
basically like a Thai spin on crème brûlee with bits of pumpkin thrown in. It
was incredibly delicious and the custard was just the right consistency. Even
though we were already stuffed from our meals; we licked the plate dry.
Aside from the lovely food, the service was fantastic. The Thai
waitresses were very attentive, friendly and eager to answer any questions
about the food. An appetiser, two
entrées and a dessert can cost around 450LE, including taxes and service
charge.