L'Amphitrion: Old Korba Charm, Delicious Shawerma
18 Ibrahim Al Laqqani Street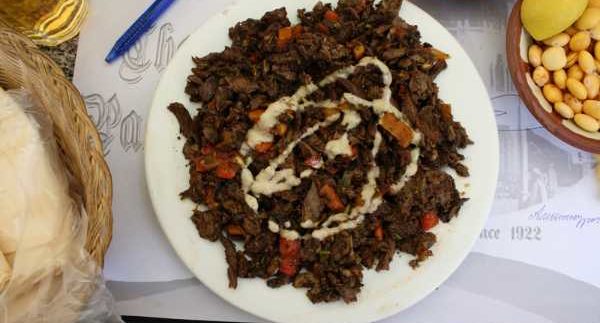 What could be better than lounging outside on a lazy
Friday afternoon with a delicious shawerma sandwich and a cold drink? There
aren't many things that compare, and if you agree, head over to L'Amphitrion
for a fantastic lunch experience.
L'Amphitrion is an old Korba restaurant that was once very
hip during a period of Korba's past glory days, when Heliopolis was a growing suburb for
aristocrats and wealthy foreigners. It's easy to imagine the restaurant as it
once was; as many of the wait staff and clientele remain similar. Unfortunately,
there aren't many of these old Heliopolis gems left; the Starbucks across the
street used to be a similar hangout called the Palmyra Nightclub.
Nowadays, younger Heliopolis folk know L'Amphitrion as
a nice outdoor space where you can enjoy a mouth-watering shawerma and a cold Stella
(15LE) that comes with complimentary termis. For a tasty appetiser, try the baba
ghanoug (8LE). It's creamy and has just the right amount of garlic and eggplant,
blending nicely with the green salad of fresh cucumbers, tomatoes and lettuce
(7LE).
The shawerma is an appetising mix of shredded beef,
onions, tomatoes, peppers and lots of flavour. Enjoy it in a sandwich (20LE) with
French fries or a generous portion served on a platter (35LE). The quality of
the meat is superb, and the shawerma is lovingly prepared with tons of mixed
spices and fresh herbs.
The Greek salad (7LE) is full of fresh lettuce, raw
onions, tomatoes and cucumbers with mixed spices, olive oil and topped with
feta cheese. The fresh salad is a great compliment to the heavy entrées. While
the feta cheese wasn't as awesome as the Greek
Club, the Greek salad was very fresh and flavourful.
After 5PM, L'Amphitrion serves shisha (7LE). Apple and
meassel are the only flavours available and don't expect anything too great. It
tastes less like a chic Heliopolis shisha and more like a baladi shisha at an
ahwa. Nonetheless, it does the trick for shisha lovers.