Lan Yuan: Lifeless Chinese Restaurant in Maadi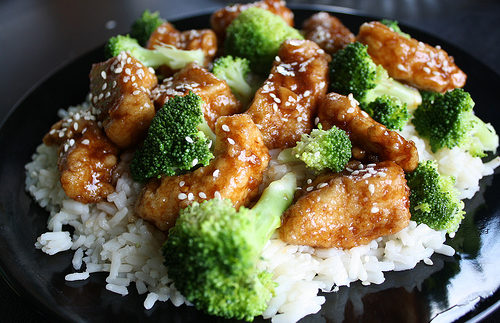 It might be several years old, but some of you must have seen the film Se7en once upon
a time. To refresh your memory; it was about policemen Brad Pitt and Morgan
Freeman chasing down a serial killer who murdered according to the seven deadly
sins. You might remember the scene where Morgan Freeman visits Brad Pitt and
Gwyneth Paltrow in their apartment. It all looks great until the subway passes
by and the entire house starts shaking. You might wonder what this has to do
with a restaurant review in Cairo. Well, here is why. One evening, we decided that we could handle the guilt of gluttony and ordered Chinese food at Lan Yuan restaurant in
Maadi. It's situated on Road 9 and the metro passes by a metre away and shakes the restaurant. So there is the connection between Se7en and Lan Yuan.
The
entrance to Lan Yuan is right next to the entrance of Dragon House. The
interior is in a state of acedia (excuse us for bringing up the sins again) and
could use some revamping. The venue's interior is painted red and white with
some yellow and green touches, thanks to our friends over at Stella who love
branding every venue in Egypt. We opted for the chicken spring rolls (7.75LE)
and the chicken satay (20LE) for starters. We weren't quite impressed with the
spring rolls; the dough was too thick and too greasy as if fried in old oil.
Also, unidentifiable juices came dripping out as soon as we took a bite. On the
other hand, the chicken satay was far better. The chicken was tender and came
off the stick very easily. The meat was seasoned with curry and tasted very
pleasant.
For our main
courses, we opted for the medium spicy hot & sour chicken (28LE) and the
chicken with broccoli (28LE), as well as a side of egg-fried rice (4.50LE).
The chicken with broccoli was absolutely delicious. Once again, the meat was
very tender and grilled perfectly. The broccoli was fresh and the greenest, brightest broccoli that this reviewer has tasted in ages. It came with a
mild soy sauce, which – combined with the rice- blended really well. The
rice had been prepared well too, with a bit of onion to give more flavour. The
hot & sour chicken was not as hot as we had expected it to be; but it still
had a spicy edge. It came with a variety of vegetables like eggplant and
carrot.
We ended
our meal at Lan Yuan with the fried pineapple with honey (14LE). It was a bit
soggy and greasy; the honey topping was royal but the pineapple had been fried
a bit too long and had lost its taste.
Though
the food is really good at Lan Yuan, the restaurant has absolutely no
atmosphere; so consider opting for home delivery instead. Delivery in and
around Maadi is free if you order for at least 50LE.