Le Caire 1940: Good-Natured Attempt at Egyptian Nostalgia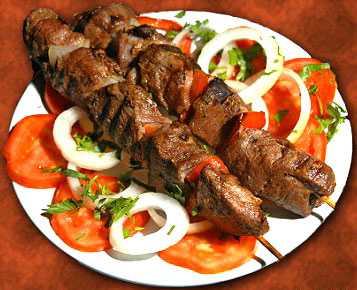 If you enjoy
checking billboards, shop signs, magazine covers and restaurant menus for
spelling mistakes, then Le Caire 1940 is your heaven or hell; depending on how
you look at it. Items like the vileh fish, chicken fungi and stuffed peagon
will either leave you laughing hysterically or searching frantically for a marker to
highlight the errors.
That being said,
Le Caire 1940 is a rather pleasant Egyptian restaurant that serves traditional cuisine
with a few 'Western' dishes, but if you prefer your meal minus the shisha smoke
circling through the air or the distracting music video clips blaring
through the flat-screen TVs, then perhaps this is not your kind of place.
Set on the first
floor of a beautiful old Zamalek building, Le Caire 1940's interior is decorated in the same nostalgic Egyptian theme as in other oriental restaurants: the wooden tables and
chairs are embedded with the old Egyptian flag symbols of the crescent and stars,
plush red curtains drape over the French windows and across the faded yellow
walls, and an antique piano hides in a corner next to newspapers from the
1940s. The main area hosts diners and those seeking a quick shisha or use of
the restaurant's free wireless internet. In a separate area, private rooms are
available for intimate dining parties.
While there's
nothing inspiring about the restaurant's traditional cuisine, most dishes
are consistently good and moderately priced. The chicken lessan asfour soup (12.95LE) was pleasant and not too heavy on the garlic, although it
oddly left a lingering aftertaste of lentil soup.
The side order of
hot shami bread was a big mistake; it left little room for the stuffed
pigeon (28LE) that followed. We may have slightly terrified our companion by
chewing happily on the stuffed pigeon with our bare hands, but the greasy,
juicy texture of the pigeon meat was definitely worth the mess and our
companion's look of disgusted horror.
The freek with
meat tagen (36LE) was unfortunately bland, and the meat portion was paltry.
Although we sent it back and complained of its taste, we were surprised that
the maitre d' didn't follow up on our complaint or even offer to deduct it
from our bill.
However, the half
duck stuffed with onion, pepper and rice (55.95LE) was pleasantly rich, although
the meat had been grilled a little too long and was thus a bit dry. We topped off our meal with a rice pudding
(14.95LE) that had a mixed reaction: some liked its milky, runny texture, while
others would have preferred a more solid pudding like Saber's.
Two appetisers,
two main courses, a dessert and soft drinks added up to a very reasonable
190LE. Although this is definitely not the right place for a romantic dinner,
we can see ourselves returning here on a Ramadan night for a fetar or sohour.