Le Capitol: Bab El Kahera: Fetar with Stunning View in Zamalek
3, Saray El Gezira St. Beside Cairo Opera House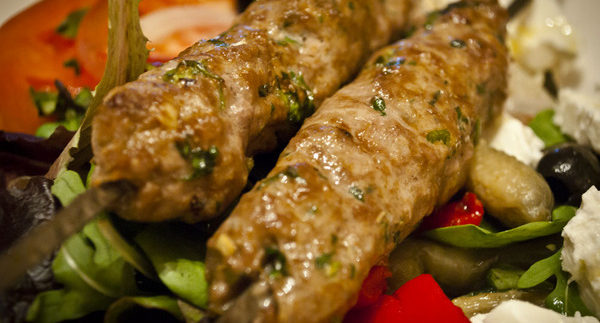 For weeks,
in the lead up to Ramadan, Cairo's Twitter and Facebook activity was rife with
a mysterious Franco-Arabic name; Le Capitol: Bab El Kahera. Like any good
hype-machine, the obscurity of what this Ramadan tent was all about made it
that much more alluring.

Set atop
the Novotel Cairo El Borg at the Kasr El Nil Bridge's Zamalek end, Le Capitol
hinges much of its attraction on its view. Though the rooftop space is small,
the 360 degree view of Cairo is nothing short of stunning. The sights and
sounds that engulf the hotel aren't always sweet on the palate, but we were
lucky enough to be sat on a side that overlooked Gezira Club's greenery.
Seconds before
the call of prayer marking the end of the day's fast, plenty of water and
Ramadan drinks were delivered to our table. As Egyptian culinary law seems to
dictate, the amar el din and karkadeh were unbearably sweet.
Offering
fetar through the glory of a buffet (140LE per person), the selection of food on offer is adequate
in the sense that there are no real surprises. Classic Egyptian dishes are
aplenty with mousakka, rice with vermicelli and various grilled meats being the
highlight of what overall was a pedestrian spread. There was no real flair with
how anything was prepared and everything needed salt. On the plus side, the salad table was full of fresh salads, hummus, baba ghanough and tehina – all of which were great appetisers with fresh balady bread.

The meal really
falls down with the desserts, however. Only a very small table is dedicated to
oriental sweets and other treats, and if you're not quick, you might walk up
with plate in hand and find but a few crumbs. A variation of baklava was the
most prominent offering; the altitude must have had some effect, because they
were mostly stale and brittle all over. Also on offer was a rather watery fruit
salad and a viscous concoction of pumpkin and honey. It was flinchingly sweet
and looked like it had been boiling and bubbling in a big black cauldron for
hours.
Atmosphere
wise, Le Capitol's set up is great. Tables for two and and for larger groups are
strategically laid out and provide intimacy without compromising the lively
bustle. The blue colour theme is instantly forgettable, but at least it doesn't
aggravate the eyes. As expected, service is prompt and the staff are helpful.
Despite its
numerous follies, the biggest turn off is the choice to screen Ramadan soap
operas. This seasonal television does of course come part and parcel of Ramadan
festivities, but digging into some moussaka while watching a man whale as he
gets whipped by some rogue balady gangs on a ten-foot projection doesn't do
much for an appetite.