Le Chantilly: Enchanting Food, Disenchanting Service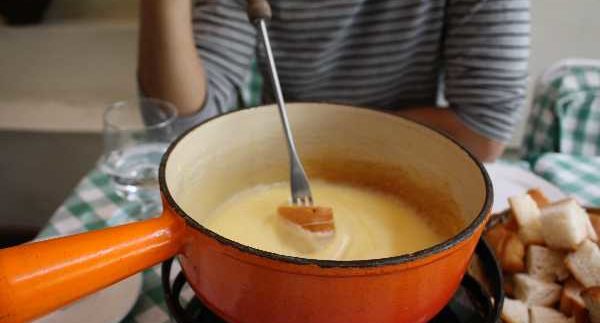 There are few activities in Cairo as relaxing as a weekend stroll in
Korba with its gorgeous Belgian-Arab fusion architecture, leisurely sidewalks
and its delightful quaintness. For a lovely outdoor space, delicious food and
pleasant atmosphere; make your way to Le Chantilly Swiss Restaurant's outdoor
garden space.
For an appetizer, try the bouchée a la reine; a giant puff pastry filled
with chicken breast, veal slices and fresh mushrooms in a creamy mushroom
sauce. The puff pastry is served crispy and fresh from the oven with freshly
steamed green peas. It's an altogether mouth-watering appetizer, though it can be a
bit salty.
The cheese fondue main course arrives atop of a lit flame, with pieces
of fresh baguette. It tastes like a mix of gruyère and Swiss cheese with a
generous quantity of white wine. The taste improves the longer it sits, as the white
wine and the cheese fuse.
The chicken cordon bleu is nothing too special. It's served baked, not fried,
which is quite heavy, especially given the very generous portion of two full
chicken breasts. Opt for rice instead of French fries to avoid your mouth becoming
one big den of oil.
Finally, the Red Sea shrimps dish with
rice, vegetables and provençal sauce can be quite a surprise. Nine fresh jumbo
grilled shrimp on skewers come shelled and still veined. The quality of shrimp is
superb, but the hassle of de-shelling and de-veining shrimp might be a bit much
for someone that doesn't want to put too much effort into eating. Le Chantilly also neglects to mention in its menu that the
shrimp are served this way.
Unfortunately, the provençal sauce could hardly be detected, and in order
to taste it you simply have to roll your sleeves up and lick your hands.
For dessert, the profiterole suchard is a divine calling: three mini profiteroles
are sliced in half and stuffed with loads of vanilla ice cream and sauce
suchard, a traditional combination of fine cocoa and sugar. The sauce tastes home-made and traditional, and is topped with wafers, whipped cream, fresh
hazelnuts and strawberry. An appetizer, two entrees and a dessert can cost
around 450LE.
Despite the great food and atmosphere, the Le Chantilly
experience was mildly compromised recently by a supremely inattentive
wait
staff. Our food came without table settings. Our empty entrée plates,
shrimp
peels and burning fondue platter were left unattended for over 45
minutes
before anyone bothered to clean it up and ask about dessert or
cappuccino. And
the restaurant wasn't exactly crowded at the time.
All in all, Le Chantilly makes for a great
sunny afternoon lunch spot. If you can manage to grab the attention of the wait
staff, the food generally does not disappoint and the atmosphere is quite
enjoyable.