Le Deck: At Sea in the City
Sofitel El Gezirah Cairo Hotel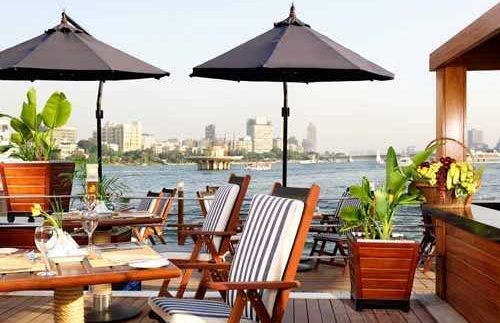 As summer is upon us, we city folk dream fondly of the
sea, don stylishly nautical apparel and crave the open waters of the
Mediterranean or the Red Sea. Le Deck, the floating-dock
restaurant lounge at the Sofitel Gezira Hotel, is the perfect place for some
Nile-side, laid-back indulgence.
As a bonus for those in search of some waterfront
relaxation, Le Deck does not draw the crowds and noise of other Nile-side venues.
Rather, it is open and airy, and the fans keep you cool and happy as you sample
appetisers, order a fresh juice or tuck into a dessert.
You must pass through the lobby and out of the back of
the hotel to reach the restaurant, which provides a quiet sanctuary. Gently
floating on the Nile and anchored to the banks
of the Sofitel garden, the venue is a world away from the glitz and glam of
Buddha Bar, though the occasional strobe light flash can be spotted from floors
above.
Le Deck is truly lovely, with large white chairs and
ornate oriental lanterns creating an exotic feel without overwhelming guests
with over-the-top decor. The venue gently rocks to and fro as boats pass by,
and diners can spot the occasional felucca sparkling away in the distance at
night. Suitable for both larger groups and intimate gatherings, the atmosphere
can fit a romantic evening or social night out with friends.
The menu boasts predominately oriental favourites and
offers a wide range of warm and cold mezzas. The hummus is rich and smooth, the
salad crisp and the freshest of fresh. The grilled options are sensational: the
shish tawook is excellently cooked and accompanied by sweet vegetables and
crisp potato wedges; while the kofta arrives hot off the grill and is spiced to
perfection.
While the food is nothing ground-breaking– you'll find
no fusion sensation or exotic cuisine here– it is reliable and tasty. However, be
prepared for a minimum of up to 200LE per person to apply when booking for
groups of ten or more. While it's easy to forget as you lounge in the open air,
you are still at one of Cairo's
upper-echelon hotels, and luxury comes at a price. For smaller parties, expect
to pay around 300LE for a moderate meal for two.
Le Deck is a perfect summer night getaway when you are
looking for a relaxing alternative to both a wild night out on the town and the
café scene. Most importantly, it captures a rare waterside peace while not
being overly pretentious or tourist-packed.