Le Kabab: Lebanese Delivery in Korba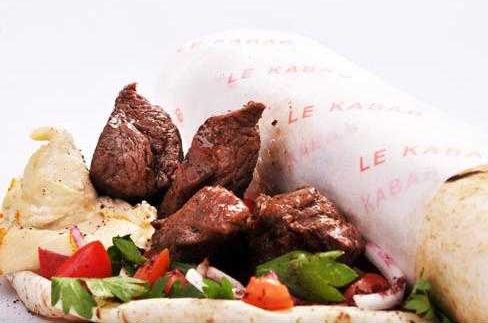 In Cairo there are two main types of takeout restaurants: the mass-produced
and the one-of-a-kind hits. Lebanese restaurant Le Kabab has joined the list of
one-of-a-kinds.
Located in Heliopolis' picturesque Korba neighbourhood, this small,
independent Lebanese grill joint is the only place that you can go to for that
particular taste of imported Antabli kofta wrapped in fresh, roasted bread and
laced with pepper, nutmeg and chilli. This is Beirut street food. Unlike other
take-away restaurants that claim to be authentic but are Egyptianised versions
of international cuisine whatever, this is the real deal. It has not succumbed
to that time-tested Cairene motto of 'We know better.' Rather, it finally
brings us a Lebanese food outlet without the infamous Shawerma stand.
Instead, they have the makanek sandwich: bright, brick-red, tiny sausages
exploding with palate-tickling spices and surrounded by the colourful whites,
reds and greens of onions, tomatoes and peppers. There is almost a Jamie Oliver
feel to the way that the vegetables are chopped and sliced imperfectly, which
gives the food less of a corporate, mass-produced feel and more of an
independent personality. This sandwich is highly recommended and must be tried even
if just out of curiosity.
Also available are Orfali kofta and tawouk sandwiches, which are rich yet
not too heavy partners in delicious crime. Like most Middle Eastern cuisine, Le
Kabab is not vegetarian-friendly with little innovation or variety on salads.
However, you get the full range of meat platters and sandwiches such as kabab,
kofta, tawouk, burgers, sogo', and special homemade basterma.
Mention must be made about the way that the food is delivered too, which is
part of the eating ritual. Le Kabab sends its food-ware neatly packaged and
labelled. You know which sandwich is which and it arrives thankfully without
the oily paper wrappings.
Overall, prices are reasonable. You can order eight sandwiches and a salad
for less than 130LE. Even better, Le Kabab offers the option of ordering raw
marinated kabab to be cooked at home to your liking. What could be more
convenient?