Le Peking: Not Quite Authentic Chinese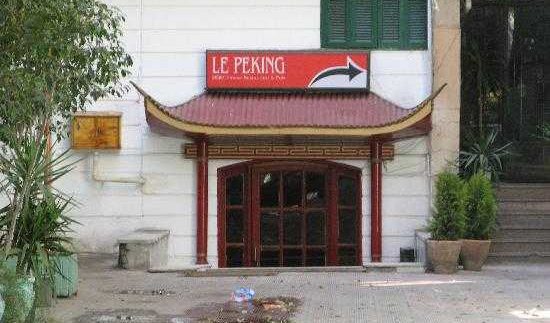 Many Cairenes
resort to Chinese restaurant chain Le Peking for its delivery service. Let's
just say we were less than impressed with the chalky, tasteless tofu, soggy overcooked
noodles, and tiny portions of their amazing prawn-fried rice, totalling
somewhere in the range of 100LE. However,
at the goading of our faithful friends that do enjoy having a meal there, we
decided to visit the Zamalek branch for a face-to-face showdown.
Admittedly, Le
Peking is pretty, with its entrance at the end of a large open space sandwiched
between two buildings, and fashioned in classic Asian temple styling with two
very large and very heavy double doors.
The interior is impressive, large and spacious with Asian touches and plenty of
tables amidst square columns and gold-painted designs on the
walls and low ceiling. Despite the large
size of the room, tables do feel intimate and chairs are comfortable, with classically
striped cushions.
Starting with drinks and appetisers, we ordered a Florida cocktail (16 LE),
which was heavy on the guava and tasted like soap, and prawn spring rolls (16LE
for four), which were good but greasy, and good luck finding the prawns!
Next we dug into
some cashew chicken (43LE), which came with greens and a few cashews thrown on
top. It had a good amount of meat but
was doused in a starchy sauce that was filled with MSG and became gelatinous
before we were finished. The Thai veal
(50LE) off their fusion menu also had a fair bit of meat, but it had the
strangest combination of salty and sour flavours on top of mint. It was edible, but just barely.
A side order of
basmati rice with vegetables (13.50LE) was tiny and disappointingly bland. For dessert, their wang profiteroles were actually
half-decent: mini-choux pastries stuffed with vanilla ice cream and drizzled
with chocolate sauce and a pinch of peanuts. The peanuts were out of place and
we sometimes got gritty bits under our teeth, but it was satisfying for the
most part.
We should mention
there's a bar and dancefloor, but judging from the tacky, all-90s colourful
lights festivities that we witnessed, it's best not to get your dancing shoes
on.
And at 215LE for two, including
drinks, tax and service, we're sure you could find a more authentic venue for
the same price or less.