Mall of Egypt, Al Wahat Al Baharia, Sheikh Zayed

Featured image via Leila Min Lebnen
Yet another Lebanese restaurant in Cairo, in other news, water is wet, or is it? But that's a debate for another day. The question here is, how well did it do? Leila Min Lebnen takes its spot in Mall of Egypt, affording a comfy outdoor area and a cosy indoor area with a Ski Egypt view.
The international franchise – with branches in Dubai – has a good variety on its menu, and offers many different options. Leila seems more of a fit for people who are not really into Lebanese food but want to try it. It threads the needle between authentic Lebanese and mainstream taste. That being said, the food was pretty good.
We opted for a big feast on our visit to Leila, trying something from every section of the menu. From the cold mezze, we tried the Vine Leaves (38 EGP) and Tartour (36 EGP), and from the hot mezze, we went for the Fried Cheese with Pastrami (35 EGP) and the Marinated Chicken Wings (43 EGP). As for our mains, the choices were: Chicken Mesakhan (70 EGP), Kofta Antabli (91 EGP), Shish Tawook (85 EGP), and Habra with Garlic Lemon Sauce (91 EGP).
The vine leaves came on top a bed of lettuce, drizzled with olive oil, and a bit of pomegranate dip. They were tightly wrapped and stuffed with delicious rice, giving us a burst of flavour with every bite, and the reasonably generous portion was quite enough. As for the tartour, which is just tahini sauce, it was quite good, and worked wonders with their freshly baked bread.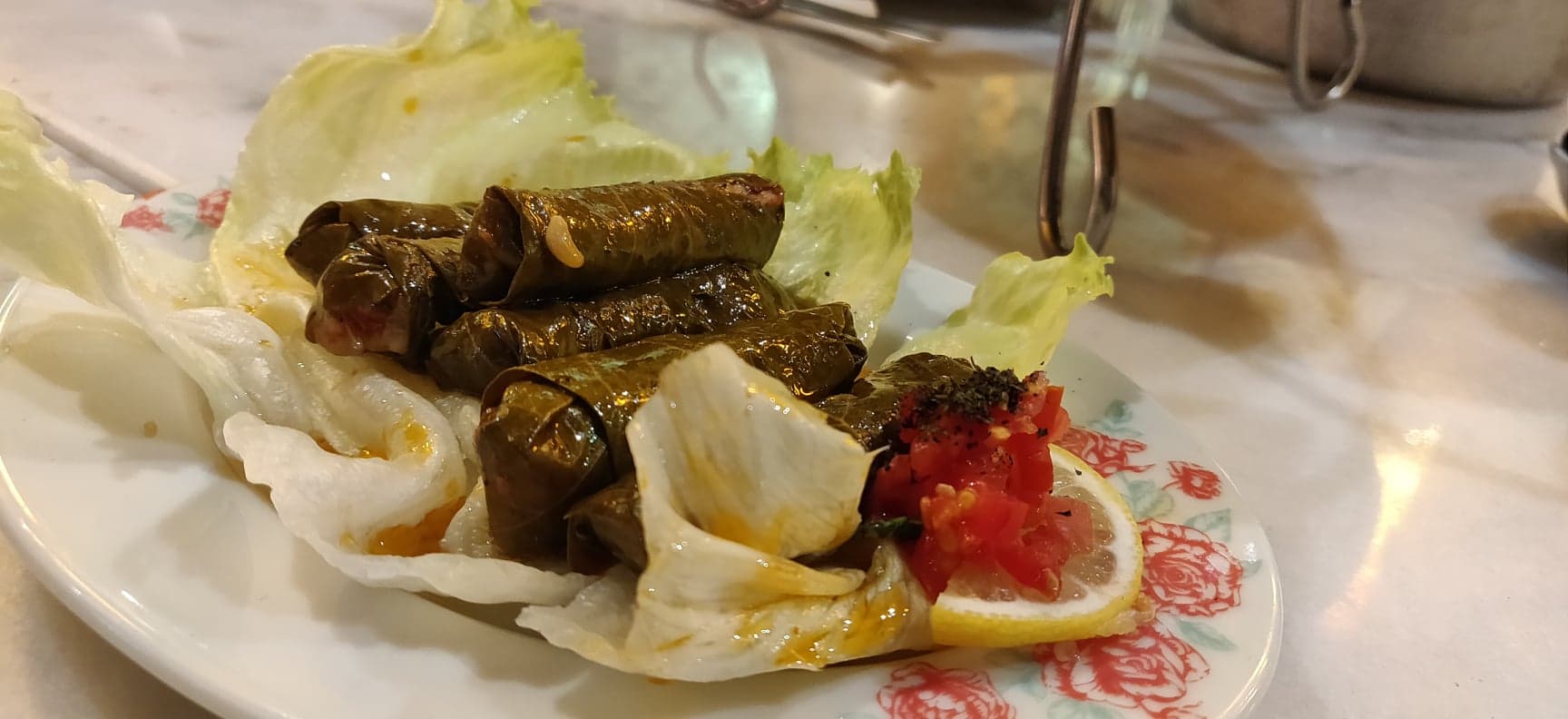 Next up was the hot mezze. The fried cheese with pastrami came as four rolls, despite the menu saying they were six. Aside from the melted cheese being really tasty, we found no traces of pastrami. Don't get us wrong, it was still good, just a disappointment that there were no actual pastrami pieces. The chicken wings, however, were a bit different from what we're used to, and they tasted pretty good. They came marinated with some lemon butter sauce with a garlicky taste.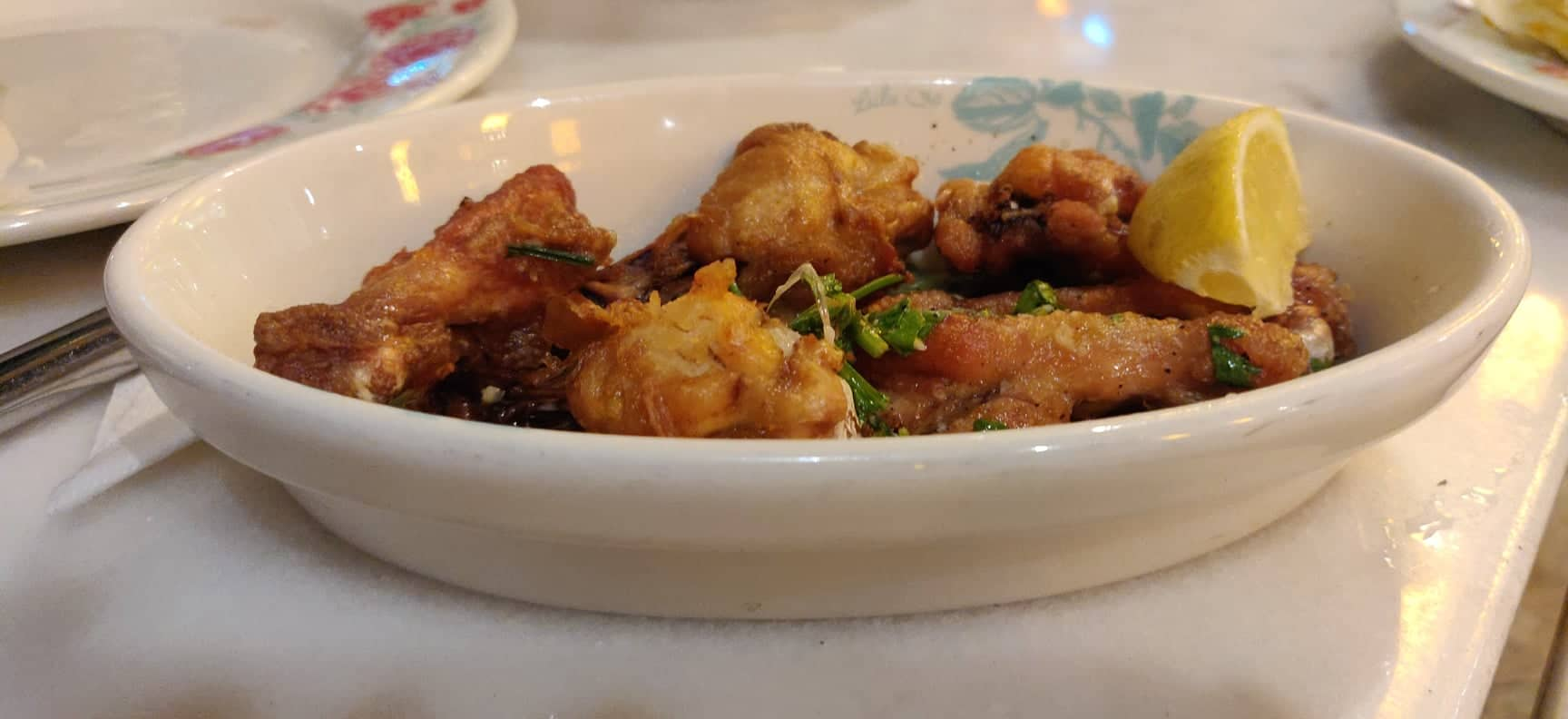 Moving on to the mains, the shish tawook and kofta antabli came with chips on the side which were a bit thick yet somewhat crunchy, and overall very delicious. They also came with oversized tomato and eggplant cubes which served no real purpose in the dish besides being garnish.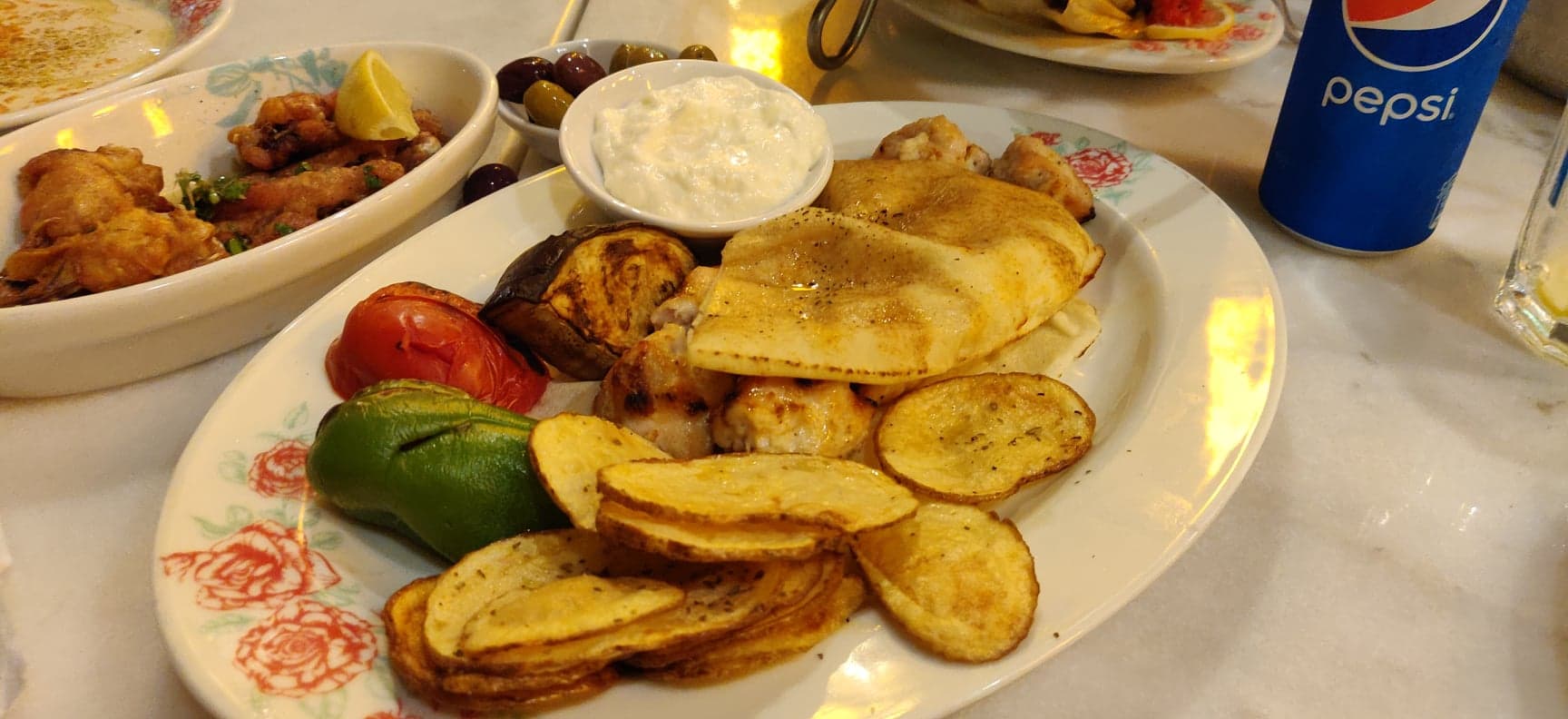 The chicken mesakhan was put in the oven category in the menu, and was described as chicken pieces with cheese, which made us expect some sort of tajine. However, we were disappointed to find it was just pizza dough, topped with chicken pieces and barely visible white cheese crumbles. The dough was still good, and the plate was not bad overall, but still, not really worth the try. As for the shish tawook, it was one of the best we've tasted; expertly cooked and perfectly marinated. It was a generous 250 grams serving, offering a solid dining choice.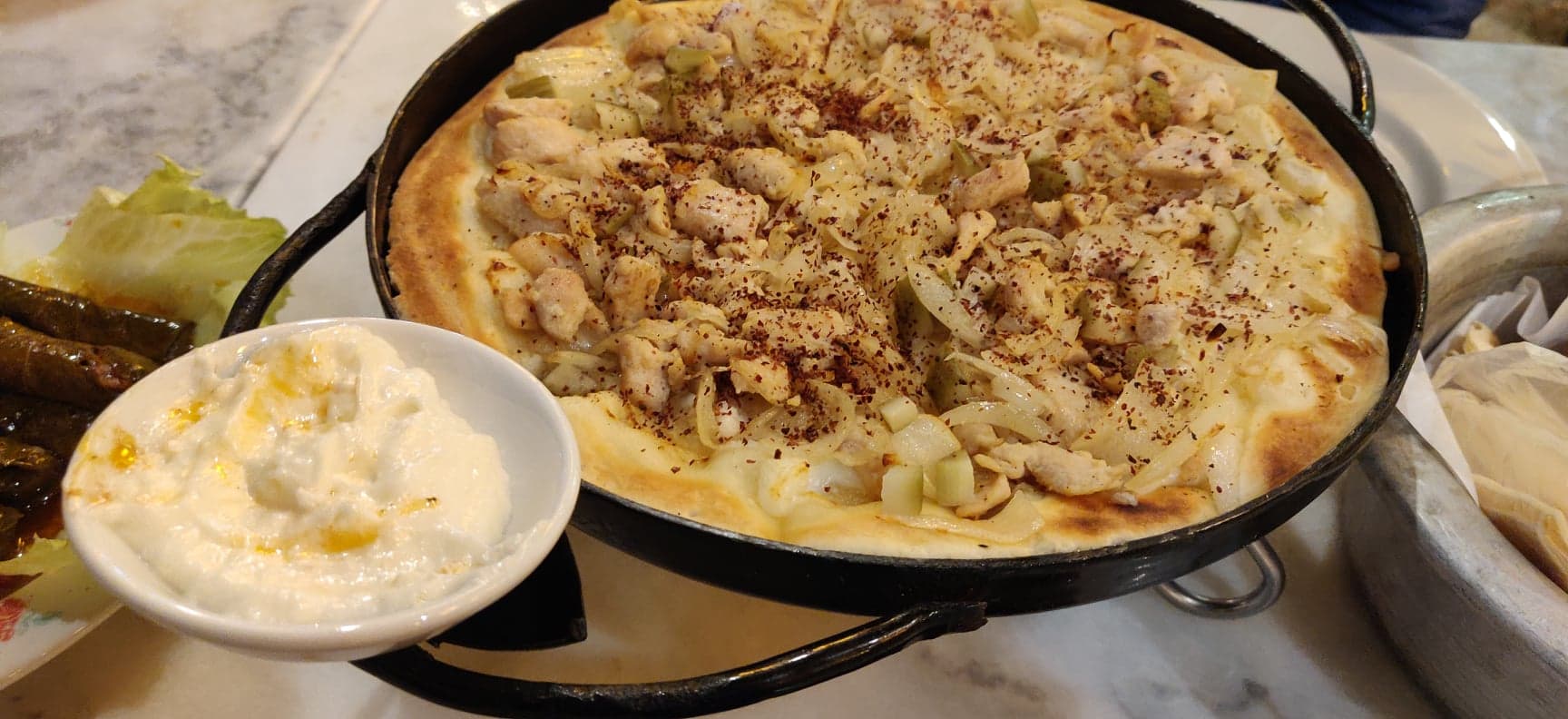 The kofta antabli was supposed to come spiced with pistachio bits. They took their time in serving our food, and by the time we finished the mezze and started on the kofta antabli, we had forgotten all about the pistachios. Disappointingly, the dish did not remind us at all. Despite the kofta tasting good, there was absolutely no sign of any special pistachio flavour.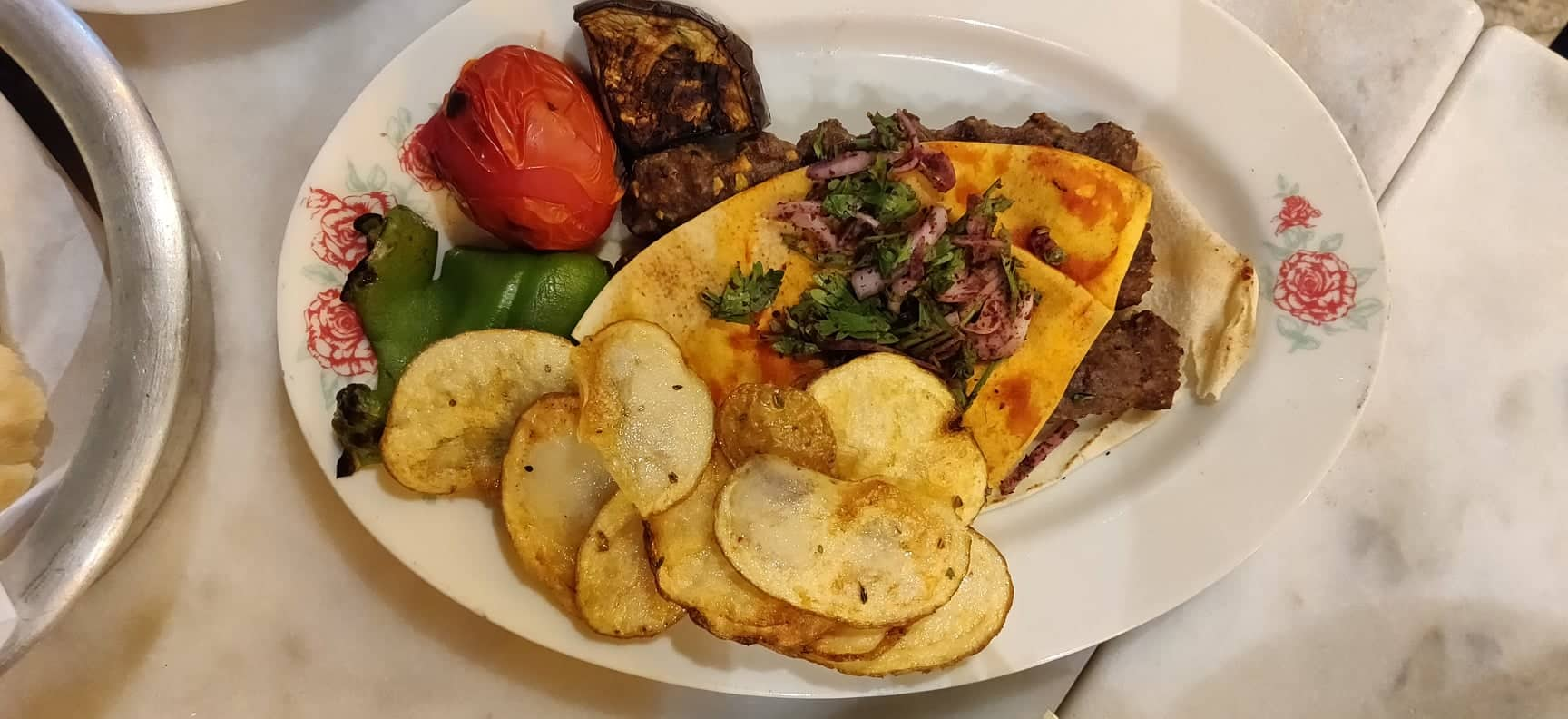 When we asked for the Habra, the waiter told us that it looks like a burger but tastes quite different, and he was right. It looks like a burger, and tastes exactly like the kofta. If it weren't for the garlic lemon sauce, there would have been no conceivable difference. The sauce, however, was very good, and made this dish a contender for the star of the table.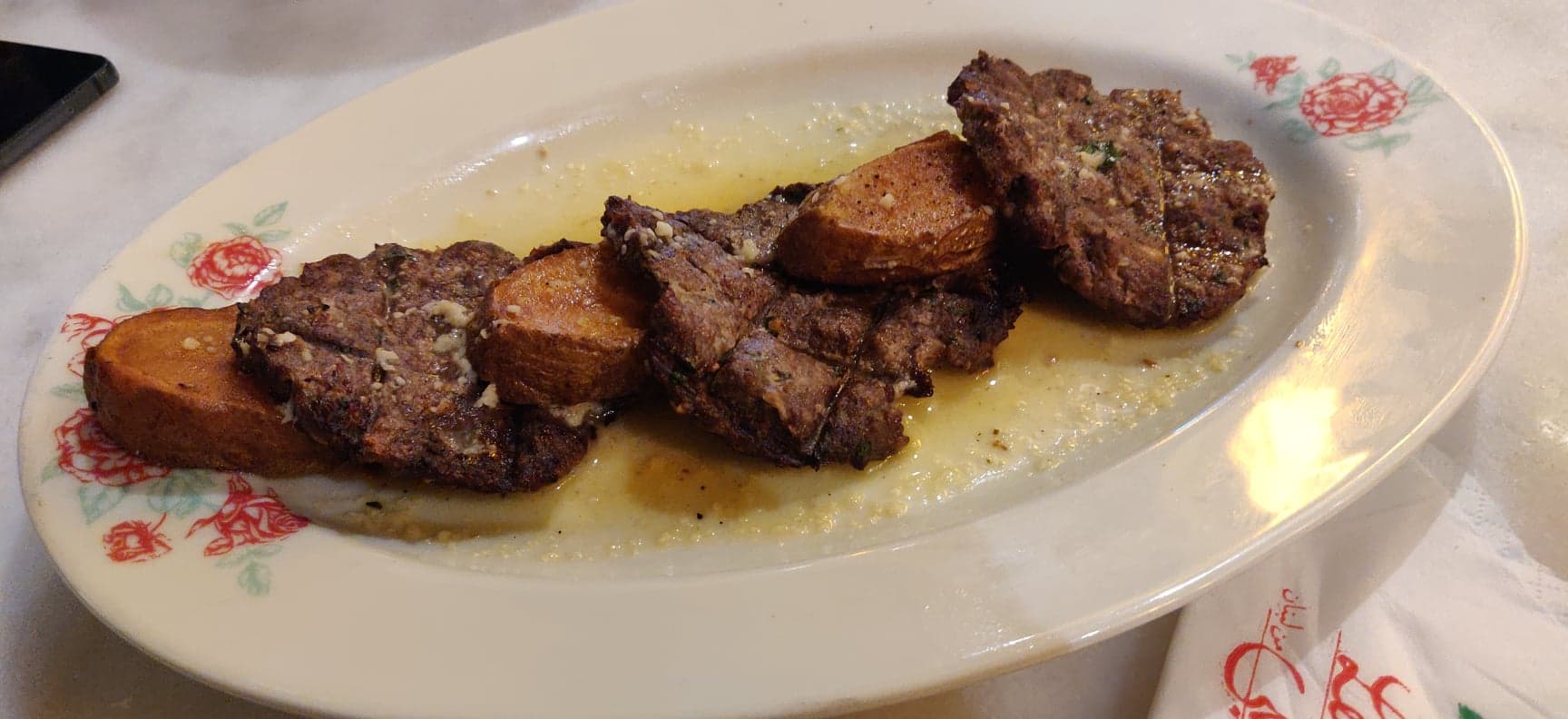 Looking to finish our feast with a bang, we decided to opt for a dessert. Leila Min Lebnan has a two-page menu dedicated to desserts, including Lebanese dishes and some mainstream options as well. We opted for the Mafrouket Fostoq (66 EGP), for an authentic dish. It was a bed of semolina, topped with eshta (cream), a "shower" of pistachio crumbs, and a side dip of viscous, clear rose water syrup. The verdict: semolina divided opinions on the table, the eshta was tasteless at best and tasted like soap at worst, while the "shower" of pistachio crumbs was perhaps half of a pistachio, thrown on the dish salt-bae style. Not even our request for more pistachio crumbs could save this horrid dish. Don't even think about the dip coming to the rescue, because the rose water syrup was exactly what made the dish this bad.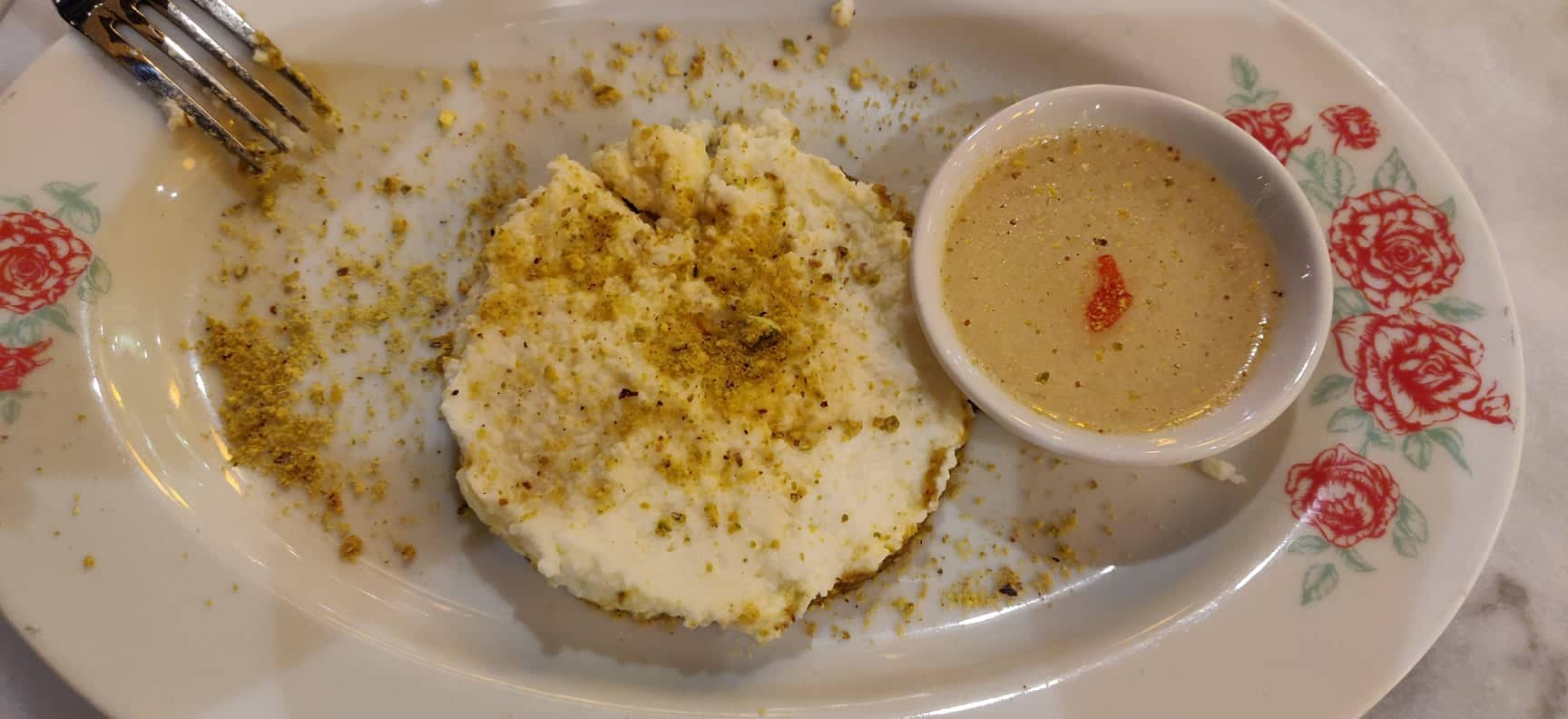 Overall, Leila Min Lebnen is not your usual Lebanese restaurant, however, they actually do the basics quite well. Your shish tawook, vine leaves, and kofta, even the bread and dips, are all quite tasty. But definitely dodge the more elaborate dishes, for they will disappoint. There was nothing too good about our experience, and besides the dessert, nothing too bad either. It's just that you'd expect more from a franchise with branches in Dubai.