Little Swiss: A Taste of Fondue at a Cairo Restaurant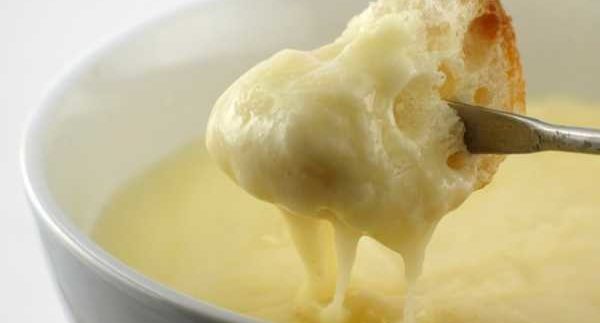 Of all the cuisines available in the Capital, fondue has yet to make a substantial impression; perhaps due to its laborious methods of preparation, or the fact that a fondue meal is more of a stylish snack than a substantial meal.
Little Swiss is intimate, authentic and bafflingly charming all at once. Inconspicuously hidden on a quiet, tree-lined side street in Maadi Degla, this small restaurant brings fondue to Cairo in a big way.
Expect to be greeted warmly by an enthusiastic display of bovine figurines and pictures. Dressed head to toe in a blushing shade of pink, owner Charlotte Tinter warmly greets each of the dinner parties. With a firm handshake, she elucidates: 'All of our ingredients come from Switzerland,' before pointing to herself and adding with a wink, 'And so do I!'
Fondue is served both with and without wine, and the solitary waiter (more than one server to man the seven tables in the tiny restaurant would be calamitous) is careful to clarify which you prefer. The cheese fondue without wine is an excellent choice for 120LE; we recommend you request the cheese and tomato combination for an especially flavourful edge. The fondue is presented in a red pot atop a gas heater plugged into the nearby outlet. As hazardous as this may sound, the service is attentive enough to avoid any mishaps. A small salad of lettuce, shredded carrots and vegetables arrives with the fondue, along with sauces of garlic and mustard, a bowl of plain rice and three small baked potatoes. Skewers of bread are provided; we would have liked to see a few more fresh vegetables to counteract the rich fondue, and ended up ordering additional salads.
We opted for the grill beef fillet for 110LE, which arrives in delicate slices, along with yet another grilling device. This requires considerable attention as the meat must be placed on the small grill and turned periodically until cooked; you may need a few gentle reminders to not get too lost in conversation.
Don't let your fondue adventure stop there; chocolate fondue is made of Toblerone and is available in dark and milk chocolate. We enthusiastically tucked into the dark chocolate (40LE) with skewers of dense sponge cake, mini-marshmallows, diced apples, pears, melon and canned pineapple. Again, we craved something fresher; the chocolate was excellent quality, but the consistency was so thin that the dipping process was a little clumsy.
Our light but satisfying meal tallied up to a little over 300LE. After the cosy repose at Little Swiss, we were ushered out by the cuckoo clock on the wall, which fittingly had a spotted cow mooing the hour, rather than the customary chirping bird.