Little Swiss: Delicious Swiss Fondue & Raclette in Maadi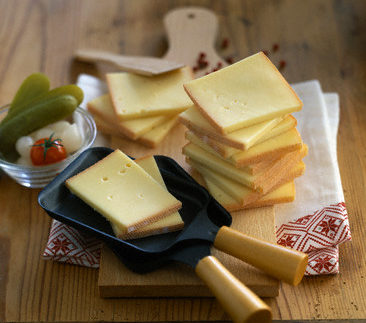 Little Swiss in Maadi is exactly what its name suggest; it's a little piece of Switzerland. Located at the end of Road 254 in Degla, Maadi, this nook of a restaurant is owned and run by a Swiss restauranteur, Charlotte Tinter, and serves fondue, raclette and meat grills.
A small patio leads you to a restaurant that is as quaint as can get. The wooden door, with European style curtains that make up half the windows, and the warm interior with speckled tea lights all around, beg you to take further steps in. Seating no more than twenty people at a time, the kitchen is literally only concealed by a half wall and the cutlery and glasses are stored openly on a shelf; it feels as though you're tucked away in a mountain lodge somehow.
Our group of twelve took up one side of the restaurant and began with an order of their cold meat starter (Grison, 30LE) and cheese fondue (with wine, 130LE). The beef was basic, served with bread and pickles. While tasty and appetising, the bread was bland on flavour. On the other hand, the cheese fondue was absolute perfection. Rich and flavourful, without being too heavy, the pots were scraped empty.
Serving a modern version of raclette (130LE) that comes with a small table-top grill and 'coupelles' – the mini pans you use to put the ingredients in to melt and then scrape out of – you can also order a type of meat to grill (about 100LE) alongside the cheese, potatoes and onions that make up the meal; the pickles, we found, were an imperative component.
The cheese was divine, melting wonderfully in the heat. Matching it with the potatoes makes for a scrumptious, albeit filling, combination, but we personally found grilling the potatoes alongside the meat to be quite pleasing as well. Cut up in thin, almost cutlet-like pieces, the beef was velvety smooth, juicy, and perfectly lean. The orders of side salads, though simple, were bursting with freshness and coated in a tasty dressing.
Unfortunately we were simply too full to order a dessert, but with choices like chocolate fondue (50LE) and meringue ice cream (30LE), next time we will be careful to leave space.
Little Swiss serves local wine, but we suggest that for a special occasion, you invest in some imported wine so that the standard is matched – there is no bouchon. The restaurant is also, thankfully, non-smoking, but the small patio upfront offers a few seats for those who crave a puff or two at some point.
The service staff is small and should be commended for their work. They were quick, efficient and alert, as was owner Charlotte, who was also a lovely host. All in all, this was probably one of our best dining experiences in Cairo.