Lucille's: Can Maadi Favourite Still Boast 'Best Burger in the World'?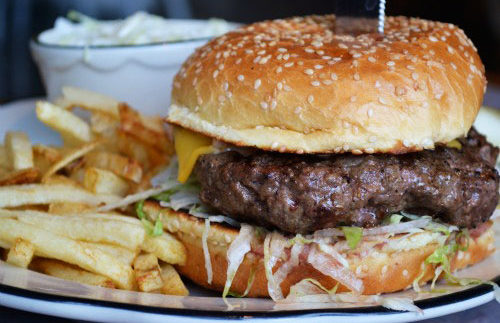 Ever since its mention in Time magazine as the 'Best Hamburger in the World', Lucille's has been the point of comparison for all other burger vendors in Egypt serving the diner style fat patty.
It's been almost seven years since the review in Time, and four since our own, so we decided to drop by the small restaurant on Maadi's Road 9 for a much due reevaluation.
Still as popular as ever, you should call ahead and reserve a time for your party if you don't want to stand outside and wait for one to clear up.
The warm and cozy diner packs about a dozen booths and tables, and has looked practically the same for at least a few years back. Our last review was mostly about the second thing Lucille's is famous for – the all day breakfast menu – so this time we decided to go burger.
We decided to share a Sample Platter (145LE) which consists of regular Tex-Mex starters like Onion Rings, Potato Skins, Cheese Quesadillas and Deep Fried Mushrooms.
From the burgers, we couldn't resist the Outlaw Burger (149LE); a goliath 600gm patty topped with six slices of cheddar and Swiss cheese, grilled mushrooms and beef bacon, served with deep fried zucchini and onion rings.
Serving time at Lucille's is quite average, landing somewhere between 25-35 minutes. The Sample Platter arrives with several dips including sour cream and BBQ sauce. The starters are plentiful and fried well, with the Deep Fried Mushrooms and Chicken Strips standing as the tastiest of the bunch for being topped with melted cheese and the latter boasting a perfect crunch-to-tender chicken ratio.
The Outlaw Burger, easily shared by two people, is about as wide as a small pizza. The bacon, mushroom and cheese toppings blended perfectly on top of the patty to offer a delicious grilled flavour. As for the patty itself, it fell a little short. We love the sheer size and thickness of the patty, and we also loved the slightly charred edges, but it was definitely overcooked – it had no juice. It's very apparent that it was overcooked especially when it had no juice releasing toppings – like tomatoes – to balance it out.
Some might find that okay, especially when we're a population notorious for overcooking meats, but we maintain that a burger should not only be juicy, but slightly messy.
Definitely delicious and definitely a diner you will visit, or at least order from, multiple times, we're sorry to say, calling it the 'Best Burger in the World' in 2014 is a bit of stretch.