Lujo's Fresh Junk: Fresh Gourmet Fast-Food in Zamalek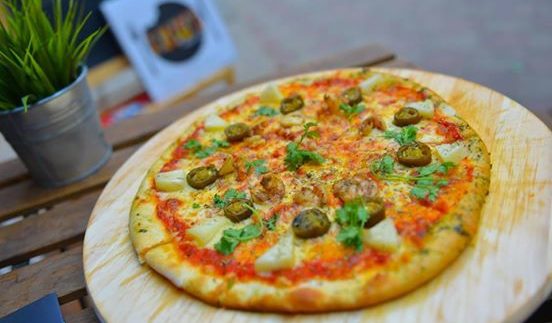 Every now and then, you're body demands the strangest of cravings. It wants fast food, it wants new fast food that's different to all the fast food that you've been having, and it wants it right now. This sensation may hit you at home or at the office, but what's certain is all the effort you're willing to exert is eating the food.
Enter Lujo's Fresh Junk; a joint in Zamalek that pulls together all the kinds of fast food onto one menu, and presenting them in a new way.
The restaurant is rather small; the indoor area consists only of a counter over which you place your order. There are a few bar stools, but we don't recommend occupying them since you'd be sitting face to face with the cashier – awkward.
The outside area has a simple wooden table with two chairs. We don't recommend sitting here either as you'll be sharing your food with the cats over the ambiance of the next door workshop's loud music.
After a quick glance through the menu we opted for the Wasabi Shrimp Tempura Wrap (38LE) and a Mushroom Truffle Pizza (44LE). Additionally, we opted for Zucchini Fries (10LE) with Mayo Pesto Dip (6LE).
Our food was served, not so shortly after, on wooden slabs that resemble chopping boards, while the Zucchini Fries were served in a small metal bucket.
The Wasabi Shrimp Tempura wrap consisted of fried shrimp tempura topped with pickled sesame cucumbers, shallots and Wasabi tartar sauce on a bed of mixed greens. The wasabi was unfortunately missing from the mix, but that was the only let down in an otherwise great sandwich. The flavours were in perfect harmony and the shrimp remained crispy despite the toppings.
Similarly, the Mushroom Truffle pizza was delicious. The truffle oil and fresh mushrooms worked well with the arugula and balsamic vinegar. The pizza had a nice, thin consistency and a good ratio of toppings. We did, however, find the mushrooms a little scarce.
The Zucchini Fries had a nice crispy golden layer coating i, and a good consistency all around, which isn't easy since zucchini cooks very fast. We felt like we ordered the wrong dip however, since Pesto Mayo was a little too heavy.
Finally, we opted for a Peanut Butter Cookie (9LE), which, unfortunately, let down what was an otherwise enjoyable meal; it was mall, too moist and barely tastes like peanut butter at all.
Lujo's is perfect for takeaway and ordering from home, especially when with a group. While the prices are higher than your average fast food, the gourmet touches elevate the menu.