Maharaja and Zen Zen: Four-Cuisine Asian Restaurant in Maadi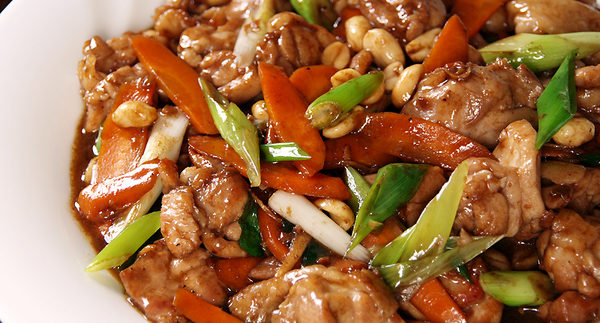 There's no shortage of Asian-inspired restaurants
in Cairo. Thai, Korean, Indian or Chinese cuisines are found everywhere and Maadi
is no exception. However, choices can be a double-edged sword; where
picking a single place to eat can be challenging. So when we heard of an Asian
restaurant in Maadi that serves four varying cuisines – essentially
hitting four birds with one super hungry stone – we were instantly curious and
set off to discover what it's all about. Welcome ladies and gentlemen to
Maharaja and Zen Zen.
Located on the ground floor of a
residential building, the restaurant was empty – very large and very empty. The
furniture was old and the walls covered with generic Asian art; the stained and
ratty-looking tablecloths left much to be desired and the marble flooring
looked like it hadn't seen a mop in years. It looked like a typical Chinatown
restaurant and when Celine Dion began playing on the stereo,
all was complete.
The menu presented us with the
first pleasant surprise of the evening – over five pages of
options. After looking through the menu for several minutes, we decided to try
both the Chinese and Indian food; ordering a bowl of hot and sour soup (12LE)
and an appetizer of vegetable samosas (12LE).
The Chinese menu was the most extensive
with a lot of appetisers, including popular items such as spring rolls, going
between 12LE and 20LE. The selection of beef and chicken was also quite
impressive; including known dishes such as sweet and sour, chop suey, beef with
broccoli and kung-pao. We settled on chicken kung-pao (43LE) and the more
health-conscious option of vegetarian Dal Maharaja lentils (26LE).
The food arrived a few minutes later,
piping hot and smelling delicious. The portion of the soup was generous and extremely flavoursome,
spicy and full of sliced vegetables. The vegetable samosas were three to a
platter and were perfectly crunchy; they accompanied the
soup surprisingly well, with their potato
filling evening out the spicy tang of the soup.
The chicken kung-pao was colourful and
perfectly cooked. It had a nice amount of sprinkled peanuts and
the spiciness level was just as requested. The Dal Maharaja lentils,
despite being made of only a few ingredients and nowhere near as complicated as
kung-pao, held its own in flavour. The lentils were puréed just
right, and despite not being served with traditional Indian naan bread, the
dish was filling and light at the same time.
The dessert was fried bananas, topped with
vanilla ice cream and honey. Although it was not as awe-inducing as
the previous courses, it gave the much needed warm and sweet ending before
having to step back out into the cold.
Our waitress, the only waitress in the
place, was chatty and an absolute delight. We discovered that Maharaja
and Zen Zen has been in Maadi for over nine years with another branch in Rehab
City. However, most people don't visit and have their food delivered instead.
This might be due to its unappealing ambiance. Since we can't find a reason to
warrant going back there, apart from the food, the delivery menu will most
certainly be given its place on our fridge.