Maharaja and Zenzen: Modest Venue, Great Food in Maadi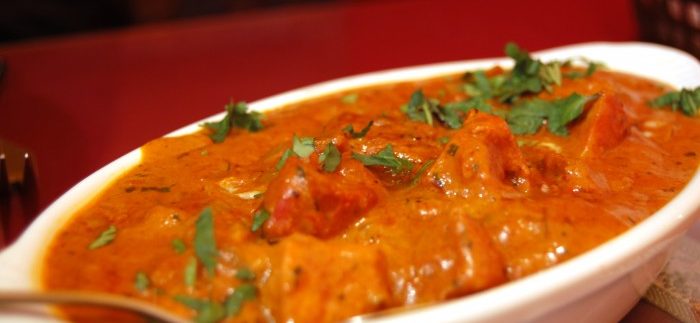 There's not many Indian restaurants in Cairo, sadly that can be attributed to the fact that it's one of the lesser known cuisines in Egypt.
The comparison between the restaurants that serve Indian cuisine is also strange, with some in hotels and others hidden on smaller roads, there's no clear cut demographic that they serve.
What we do know, however, is that Indian cuisine is pretty delicious, so we decided to drop by one of our favourites and see how it's been doing.
Maharaja and Zenzen is a collaboration of Indian cuisine plus all things Asian, including Korean, Thai and Chinese. We had previously visited the whacky coloured venue in El Gazaer Square in Maadi, while the decor is certainly misleading, and not the most comfortable, you will quickly forget about it when you're served your food.
We opted for Fried Dumplings (12LE) from the appetizers, Beef with Black Mushroom (50LE) and Chicken Makhani (48LE) from the mains and Vegetable Fried Rice (21LE) for the sides.
The Dumplings, while a small portion, were fried to perfection with a tasty chicken and veggie filling. The Beef with Black Mushrooms came steaming hot in oyster sauce. The beef was juicy and tender while the mushrooms were large, plentiful and bursting with flavour.
The Chicken Makhani, better known as Butter Chicken, was exceptional. Served extremely hot, the portion of chicken was filling while the butter sauce was thick and unbelievably delicious. We wished we had ordered some Naan bread to dip in the sauce.
Both dishes are complimented greatly with the Vegetable Fried Rice with Eggs which left us with a thoroughly hearty and filling meal that's worth every penny.
It's tough to assume the food would be so good by the look of the restaurant with its generic Asian decor and not-so-clean marble floors. It may not be the best place to take someone out to or hold a business meeting, but if you've never had Maharaja and Zenzen it's a surprise waiting to happen and we really recommend you drop by, or order to your home, if you haven't already.