Maharaja: Hilton's Indian Restaurant Hits the Mark
Inside Ramses Hilton Hotel

1pm - 4pm / 7pm - midnight -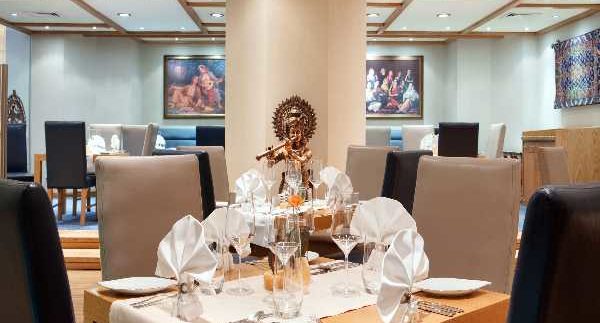 We are
always on the hunt for good Indian food in Cairo, and a recent visit to Ramses
Hilton Hotel's Maharaja proved that a good curry can be found right in the
heart of the city. As with many hotel
restaurants, a meal here won't be cheap; but between the delicious food and on
point service, Maharaja is well worth a visit.
Walking
into Maharaja, it's hard to forget that you are in a hotel. The simple decor lacks character save a few
lamps and paintings, but the space is clean and bright. To be perfectly honest, we appreciate the
lack of kitsch that some hotel restaurants so fully embrace, and the
restaurant's stainless steel tandoor oven at the front entrance makes for an
exciting focal point.
Although
the head chef and most of the servers hail from South India,
cuisine from all over this diverse country is prepared at Maharaja. While the
Indian cuisine here is far from fraudulent, certain dishes clearly cater to Egyptian
and Western palates. The menu includes everything from daal and rich curry
sauces to biryani rice dishes and specialties from the tandoor. Vegetarians
will have a field day with the myriad of tasty options, and anyone craving a
spicy experience will be pleased by Maharaja's menu.
The meal
commences with gifts from the chef in the form of bite-sized vegetable patties
with cool mint chutney, as well as wafer-thin papadum bread with mango chutney
and marinated lemons. From the long list of starter options, we recommend the
thick and creamy jeera stew (36LE). Described as a New Orleans gumbo take on lentil soup, the bowl is filled
with okra, spinach and a hint of coconut milk. The stew is not particularly reminiscent of the Big Easy, other than
being soulful and delicious. For those new to Indian cuisine, the Punjabi
vegetable samosas (42LE) are a flavourful rendition of this savoury Indian
treat served with sweet tamarind chutney.
While
enjoying your first course; be sure to have a glance at the tandoor station,
where fresh bread and meats are prepared right in front of your eyes. The grilled lamb chops (110LE) are a real
winner. Beautifully butchered, petite lollipops of lamb are tender and full of flavour;
be sure to try any tandoor meat with the variety of sweet dips at your table. Though it's not on the menu, paneer muttar
(48LE) is easily accommodated by substituting the spinach with peas in this
entrée of homemade, cubed cheese served in a thick fiery orange curry with a
drizzle of soothing yogurt. Piping hot
garlic naan (18LE) is some of the freshest in Cairo, though sadly not as strong
with garlic as some.
If you're
too full to move after all this food, stay at the table a little longer to
enjoy the guleb jemun (32LE), fried milk dumplings in a bowl of syrup topped
with crushed pistachios for a superb ending to this Indian feast.