Maharaja: Ramses Hilton's Indian Restaurant Proves it's One of the Best
Inside Ramses Hilton Hotel

1pm - 4pm / 7pm - midnight
With the cuisine of Italy and China among the dominant across the Cairo dining scene, restaurants taking on more niche cuisines often find it difficult to shine in Egypt's capital – like Indian food. With less than ten Indian restaurants in all of Egypt, there aren't exactly many options, making our visit to Maharaja all the more enticing.
Located inside Hilton Ramses Hotel in Downtown Cairo, Maharaja has a very simple and plain interior design, but with a noticeable touch of wood. With random Indian statues distributed around the space, Indian fabrics and the paintings on the wall, alongside non-stop Indian music, we felt like the ambiance was more of an Indian wannabe – it was just a little too much. However, the service and the staff created a one-of-a-kind ambiance of their own during our visit, showing a genuine love and care for the restaurant and its food.
Checking out the menu, and mispronouncing the names of all the dishes, we received a plate of mango chutney, pickled lemon and minty yogurt sauce, with two pieces of scrumptious "Indian falafel" as the waiter said. Nothing beats Syrian falafel though.
We kicked things off with a Bhajias (60LE) as an appetiser. Served with mint yogurt dip, Bahjias is a mix of vegetables – green bell pepper, onion, potato, and green chilli pepper – and Maharaja's homemade cottage cheese, dipped in chickpea batter to be fried. The batter itself had a fantastic soft texture with a crispy exterior which worked perfectly with the fresh flavours of the veggies. As for the cottage cheese, it had a stiff texture, close to mozzarella, and surprisingly had more flavour than the usual bland cottage cheese you'd find in supermarkets.
The best part of any Indian meal has to be Naan bread, of which we ordered the butter & garlic versions (28LE). Cooked in a tandoor oven – which is located inside a visible glass room – the buttery naan had perfectly crispy edges and that perfect chewiness to it, but the garlic flavour on the other was hardly noticeable.
Moving to the mains, we ordered the Kozahi Chettinadu (115LE) and Chicken Jalafrezi (105LE), with the former coming as super-tender, boneless chicken curry marinated with green chilli and fennel seeds and then simmered in coconut milk. Despite the weak coconut milk flavour, we loved the consistency of the sauce and the overall flavour, but we expected bolder flavours – which the Chicken Jalafrezi definitely had. Cooked in a piquant tomato sauce with garlic, onion, capsicum, and cubes of fresh ginger, it was easily our favourite savoury dish, with the occasional ginger pop from the random cubes complimenting the bold tomato flavour.
Alongside the curries, we ordered a side of Nimbu Chawal rice (45LE). Served in a wooden tube, it was incredibly light and fluffy, boasting a great lemony flavour, fresh coriander and peanuts, which added a great occasional crunch.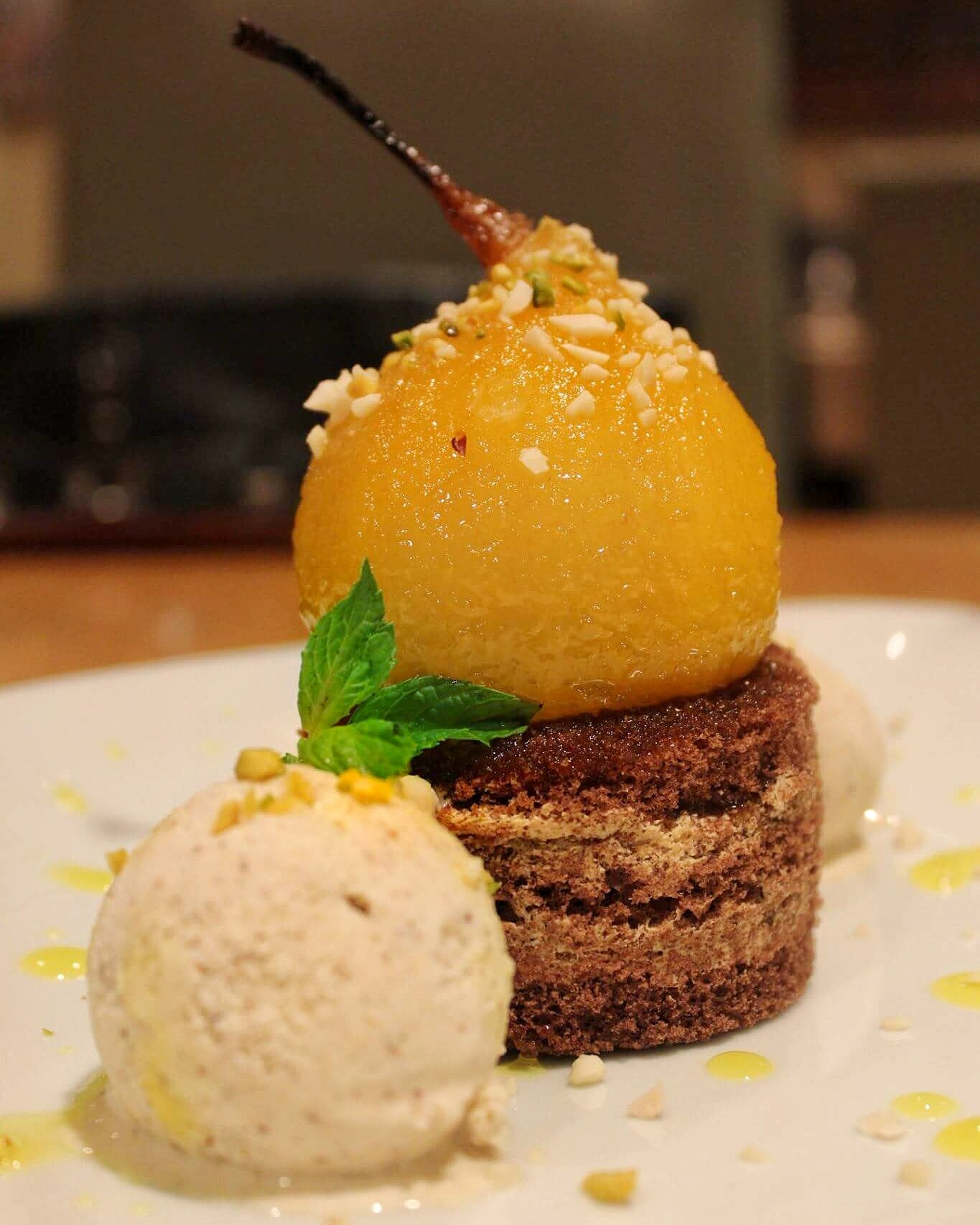 We finished our meal with a Kpmali Naashpathi (50LE) – a traditional chocolate cake filled with chocolate frosting and topped with a saffron-poached pear. Served with two scoops of a to-die-for cinnamon ice cream, the Kpmali Naashpathi was a flawless dessert and worth a second visit alone.
The saffron gave the Pear a beautiful yellow colour, as well as light, sweet and earthy flavours that worked perfectly with ice cream.
It may not be the most highly-thought of hotel in Cairo, with many pointing to its crowded, noisy location as a turn-off; but in Maharaja, Ramses Hilton has an excellent restaurant that, despite the missteps during our visit, brings together the wholesome comfort of Indian food together with the kind of sophistication you'd expect from the hotel, all sprinkled with some fantastic service.