Makani Maadi: New Sushi Menu, Same Quality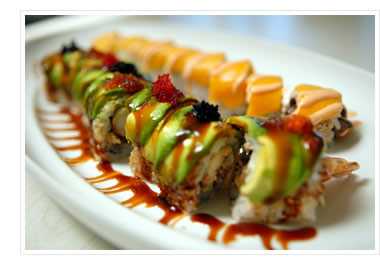 Combining sushi with doughnuts just doesn't sound like appealing, but café/ restaurant chain Makani somehow makes it work. Originally hailing from Sharm El Sheikh in 2002, Makani was first and foremost a famed maker of doughnuts and other sweet treats, as well as non-sushi entrées; sushi is just the icing on the cake.
The bungalow-like Maadi branch of Makani is stationed in the shadow of the garish Maadi Grand Mall, an unfortunate feature that gives diners a less-than-scenic view of the surrounding traffic. The open-air dining area puts some stern limits on dining season– winter is a bit chilly for eating under the stars (or rather, under the unromantic mall glow), and summer's oven-like temperatures make one rather concerned for the state of sushi prepared in the barely sheltered kitchen.
Makani's sushi is fair: the Philadelphia and flying crispy salmon rolls are personal favourites, while the spicy salmon has some tamarind flavouring rarely found in Japanese cuisine. While it is not the ultimate sushi spot in town, Makani turns out an astounding number of choices. The recently updated menu includes the spicy mango roll (60LE for 8 pieces): diced spicy salmon pieces are wrapped in mango with black sesame (sadly not available upon our last visit); and the dubiously named sexy roll (60LE for 8 pieces): a slice of strawberry is garnished with hot sauce, fried shrimps, avocado and cucumber, and topped with spicy shrimps. Questionable combination? Perhaps; but it definitely gives Makani an edge in the traditional sushi line-up.

The green caviar roll (50LE) is an ensemble of lettuce, cucumber and avocado, making for a blinding display of the shade. Makani insists on doing things a bit differently, as seen in the California roll (48LE), which features salmon and shrimp along with the traditional crab stick, cucumber and avocado. The marinated salmon sashimi (65LE) is also highly recommended.
Aside from the fact that a great many of the specialty maki rolls feature chilli, hot sauce and wasabi mayonnaise; it's hard to tie down a pattern with the kitchen. The roar of traffic is distracting, no matter how loudly Fairouz plays out on the overhead speakers. However, a big plus for the restaurant is its modest pricing, at least in the world of sushi restaurants– compared to fellow sushi servers Mori and Fuego, Makani wins hands down price-wise; with 50LE buying you a generous twelve-piece roll for the simpler selections.
If sushi's not your thing, Makani has a respectable selection of sandwiches, split into categories of dark meat, light meat and meat-free, grilled entrées, salads and desserts. Many regulars consider the chocolate doughnuts as the best they've ever tried, while the jam-filled doughnuts come in a close second.