Makino: Authentic Japanese Food in Zamalek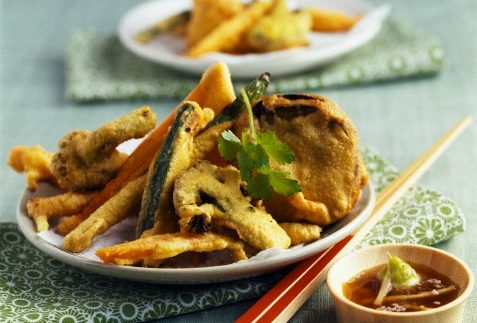 The Hilton Zamalek Residence on Mohamed Mazhar, like many
other Zamalek hotels, is downplayed. Being in Zamalek. one would imagine that all these
hotels on the island would be brimming with restaurants and bars – it's a shame
they don't. But passing by the Hilton, we spotted a Japanese restaurant that
piqued our interest so we decided to pop in.
Makino has only just opened and there is still a sense of incompleteness to the restaurant; the entrance, for example, is
still from inside the hotel as opposed to on the street where the restaurant is
located.
An indoor area has a low sushi bar to eat at as well as maple wood
tables and chairs, and a pebbled floor covered in marble slabs laid out like stepping
stones. The outdoor area is bordered in bamboo sticks with oriental-inspired lighting fixtures. Overall, the place is harmonious and relaxing.
Choosing to sit outside since the weather was nice, a
Japanese hostess welcomed us with the menus and cold towels were brought to the
table. Feeling slightly lost in the menu and unsure of what to order, we
settled on a variety of dishes.
One of the few places in Cairo that serves edemame (38LE), we happily
ordered ourselves a portion to start. A sushi platter (180LE) comes with a variety
of sushi pieces that includes salmon, eel, calamari, tuna, white fish and even an
egg one! The sushi wasn't very vibrant in colour, included no cheese and none of them were fried – in other words it looked bland – which led us to assume that this is what real sushi looks like
as opposed to the westernised version that we're used to. They were smaller in size, which is a plus, but weren't as spectacular in look or in taste.
The Tempura Mori (70LE) isa selection of seafood and vegetable
tempura which was good but there were more vegetables than seafood. The Niku Jaga
(55LE) is a stew with beef, potatoes, onions and carrots that tasted quite
average; the vegetable pieces were too large and the stew itself was too thin. The Salmon
Shio Yaki (65LE) is a fillet cooked in salt and was served with cucumber and
apricot on the side. The salmon was well cooked but had a very potent flavour and is really an acquired taste for seafood lovers.
Their dessert menu is still under development so we settled
for the sesame ice-cream (20LE). A scoop of vanilla
with crushed sesame seeds sprinkled on top, it was interesting and surprisingly
good.
The service at Makino was reasonable; the waiters were
attentive, pleasant and they seemed to be working hard to give their restaurant
a good name. We also noticed the bar towards the back of the outdoor area being
cleaned using hygienic gloves which is always a promising sign in a place that
serves raw fish.
Chatting with a group of Japanese diners, we were told that
Makino is as authentic as Japanese food gets and perhaps that would explain our
initial apprehension to the menu choices. So if that's what you're looking for,
according to our new Japanese pals, this is the place to go.