Mam's Restaurant: Cheesy Diner in Downtown Mall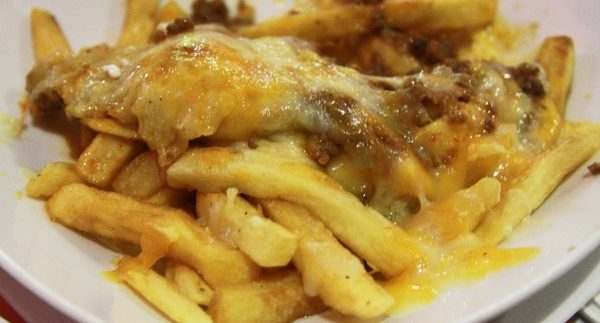 When Celine Dion's greatest hits project onto a big screen, it's best to think twice.
Part shrine to Hollywood dames, part diner and patio lounge, Mam's at Downtown Mall in the Fifth Settlement is an oddball. And to make things even stranger, its staff claimed that the café is a satellite of a French franchise, but we couldn't find the link.
Surrounded by photos of Broadway doyens and American sweethearts like Julie Andrews and Marilyn Monroe, we contained our hopes for a twilight cabaret or waiters in drag and surrendered to a bowl of chilli cheese fries (16LE).
As a starter, the diner classic was a heart-hitting basket of crispy fries smacked with a glove of gooey American cheese and spiced, minced beef chilli. If that weren't enough, the cheese quesadilla (26.99LE), an equally satiating appetiser, sandwiches two toasted tortillas sprinkled with a helping of white and yellow cheeses and served with pico de gallo salsa, lettuce and sour cream.
Trudging through, we took on the waiter's suggestions: the Seafood Fajita (68.99LE) and the Casa Blanca (49.99LE).
Like the quesadilla, flour tortillas along with cut lettuce, cheese, sour cream and salsa came with the sizzling seafood platter. The spiced rice was fluffy, flavourful and filling, but the seafood was unappetising and unmanageable.
For one thing, the seafood toppings could have been better chopped or julienned to ease assemblage. Or at the very least, the chef could have done us a favour by peeling and deveining the shrimps. And while the fish was flaky and deboned, the squid was rubbery, overcooked, and came in two cumbersome pieces that literally bounced off the narrow skillet.
The Casa Blanca bathed two chicken breasts in a rich Roquefort and mint sauce and was served with sautéed mixed vegetables and a choice of rice, mash or fries. The blue cheese rendered faint on our palates but the arroz con pollo was well-cooked and the veggies, buttered, making for a reliable repast.

For a sugar-coated ending, we ditched dessert for a toffee frappuccino (20.99LE). The drink was agreeable to our taste buds but texture-wise was more like a cold latte than an icy, slushy treat.
Elsewhere, Mam's could be a decent, quirky hangout with cheesy appetisers, a cheesy theme and 'yes, ma'am' service fit for a queen. But with the growing number of good eats and fancy digs at Downtown Mall, Mam's is just cheese.