Man'oucheh:Levantine Bite-sized Snack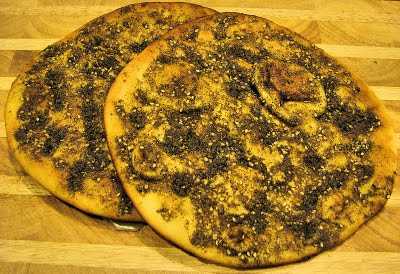 We've
long established that Cairo
has a variety of tasty snacks– so here's another to put away as a personal
favourite. The Mohandiseen branch of Lebanese franchise Man'oucheh serves
delicious, low-brow mana'eesh in a cosy setting, suited for a substantial bite
on the go or a late-night snack, and especially perfect for refuelling between
exams or meetings.
The
rosto w jebneh (20LE) man'oucheh is more than filling. Described on the menu
with the restaurant's particular candour as 'roastbeef+cheese+pickles+mustard+mayo+tomato',
the sandwich is more than the mere sum of its parts: morsels of sliced roast
beef are tucked into thick, melted halloumi cheese with pickles, tomato and
tangy yellow mustard. Enough to send you off for a post-Man'oucheh nap; it is
as messy as it is flavourful. We recommend that you throw caution to the wind,
forget about making a dainty impression, and savour the moment. The addition of
mayonnaise, mustard and cheese does set you up for a few slips– but we say who
cares, as long as you're enjoying yourself!
We
quite enjoy the simple combination of halloumi and tomato in an oven-baked mana'eesh
(12.75)– while it's not featured as a set menu option, staff are open to
suggestions of nearly any combination of ingredients that floats your fancy.
Heavy indeed, this particular concoction makes up an excellent comfort food
treat, with the ample slices of tomato adding a little fresh flavour to the
mild halloumi cheese and soft bread.
You
can also find the staple zaatar and halloumi options, (12.75LE) in which the
tangy zaatar is balanced by thick halloumi, along with hot dog, chicken, roast
beef and more.
The
interior is a cheery and upscale take on a typical fast food joint, where
people crowd in from outside to indulge in the substantial Lebanese fare.
Bright posters with the eatery's trademark cartoon Arabic-English slogans adorn
walls and windows.
The
waiters take your order to go at the register or amble over to your booth after
a clear signal. Service is both friendly and accommodating, refreshingly so
when it comes to picky diners (who, us?) in search of highly personalised mana'eesh
combinations. Also try the shawerma djeij or shawerma lahmeh (both 19LE), or
the Philadelphia
('phili steak+cheese+mayo) or fajita (both 19.75LE) for a snack that is
guaranteed to you down. Dessert-lovers should try the oven-baked chocolate and
banana mana'eesh for a taste of fluffy dough, rich chocolate heaven.