Marco Polo: All Over the Place in Egypt
Le Meridien Heliopolis Hotel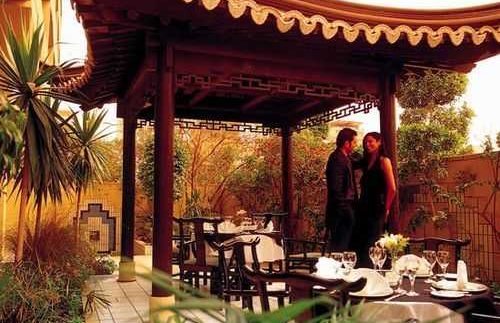 Named after the
great merchant and traveller Marco Polo, the Meridien Heliopolis' international
restaurant promises a diverse and flavourful menu. A rich and cosy dining room and mouth-watering
menu items suggest an evening of fine dining. Unfortunately for Marco Polo, it's what's on the plate that counts.
Excited by the
table-side preparation, we decided to start with a Caesar salad (50LE) but were
disappointed when our friendly waiter– not a member of the kitchen staff–
wheeled a cart to our table. We felt bad for the man that was set up for
failure: a jar of Dijon mustard, olive oil, factory-manufactured
croutons, minced garlic and a single shredded anchovy simply cannot become the classic
Caesar that we had ordered. Without egg
or romaine (iceberg was substituted), it was just a salad; and an overdressed
one at that.
Marco Polo's beef
carpaccio (60LE) was delicious, though. Thinly shaved, lean beef was drizzled
with a sweet balsamic reduction and accompanied by shaved Parmesan. The dish
was light and balanced yet begged the question of why the shaved Parmesan hadn't
been incorporated with our pricey Caesar salad instead of the finely powdered
variety.
We suggest that you
stay away from soups at Marco Polo. Unable to decide between seafood soup and
crab bisque (both 35LE); we left it up to the chef's recommendation and were
served a clear broth with greying salmon and overcooked scallops that tasted
only of hot water.
The Cajun shrimp alfredo
(70LE) should have had more flavour, yet with shrimp almost as white as the
creamy sauce that it sat in, the dish lacked any discernable flavour beyond
cooking cream. Beef tournedos with blue cheese over tomatoes and cucumber
(100LE) was specified to arrive medium; but the meat arrived well-done on one
side and bloody on the other. This
wasn't immediately obvious, though; as the large mound of cold mixed carrots, corn,
courgette and mushrooms soaked up much of the blood. The meat was of good quality and had been
seasoned well, leading us to believe that there is a breakdown of communication
in the Marco Polo kitchen.
After voicing our
grievances about the meat, we were offered dessert on the house, which at least
speaks to the level of service at Marco Polo. Since the kitchen was out of marbled cheesecake, we opted for espresso
crème brûlée dusted with pistachio and a praline crunch (40LE). The dessert arrived without the nuts, praline
or espresso, and although only half of the sugar had been brûléed; the custard
beneath the grains was rich and creamy.
It is clear that whoever
had envisioned the menu at Marco Polo had some excellent ideas, yet the
execution of the food leaves a lot to be desired.