Maria's: Quality Mexican Dishes in Heliopolis
Inside Fairmont Heliopolis

2PM -Midnight- Closed on Tuesdays -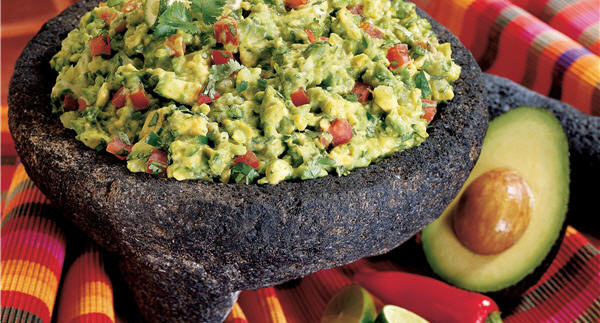 Located in Fairmont Heliopolis, Maria's received rave
reviews when we visited it last. Since we always like to go back and make sure
venues still earn their stars, we made our way over to the bright orange
eatery, rumbling stomachs in check.
Maria's is an open-space and part of what one companion
described as the hotel's 'fancy food court'.
The interior is a bright orange with minimal decorations; taking a seat
on the elevated section of the restaurant, we concentrated on the task at hand: to eat as much Mexican food as we can.
You're started off with homemade tortilla chips served with
a spicy salsa. The chips were crunchy and fresh, so much so we asked for more than one
refill. Ordering some cocktails and guacamole (65LE), we intently studied the menu,
trying to choose from a variety of dishes.
The Tequila Comfort (95LE) was delicious with a soft, well
rounded flavour, while the traditional margarita (95LE) was tart and came with a
heap of icy yumminess. The Rainforest cocktail (95LE) was just as pleasing and had a mellow strawberry
flavour. The guacamole was prepared in front of us and we were asked
specifics on how spicy we'd prefer it. With the perfectly crunchy tortilla
chips, the chunky dip was quickly eaten up and we could have easily had some
more.
We ordered quesadillas with beef (125LE) and the ceviche
dish Aguachile Mazatlan (90LE), consisting of shrimp in a green chilli and lime
sauce. The quesadillas came on a plate
with sour cream, guacamole and chopped tomatoes on the side and were absolutely
divine. The meat was succulent and tender, full of flavour and the tortilla
wrap had the right consistency where it was neither too thick and dough like, nor
too thin and flimsy. The shrimp were also good but you may be a little disappointed with the lack of variety within
the dish – which contained shrimps sliced in half and a few cucumber shreds – considering the grandness of some of the other dishes.
While the flavour was pleasing, we did find a vein that had not been properly
cleaned out.
The main courses we chose were the burrito with grilled rib
eye steak (160LE) which came stuffed with Mexican rice, re-fried beans and lettuce and – supposedly – covered in tomatillo sauce and melted cheese. We also ordered the
Flautas de Borrego (160LE); slow roasted lamb with avocado and banana leaf
flutes. The burrito tasted very similar to the quesadillas only more difficult to
eat and with less juice. There was no sauce or cheese covering it as promised either. The lamb
came wrapped in quite literal flute shapes and was a bit too salty and overall
on the heavy side. The dish came with a highly spicy tomatillo sauce but it
didn't help alleviate how dry it was.
We chose the quesadillas for dessert (55LE), which come with
chocolate, peanuts and banana in a cinnamon sugar sprinkled tortilla. With a
side of ice cream, the quesadilla was warm, gooey and slightly crisp at the
same time. The cold ice cream complementing the otherwise heated dish very
well.
Maria's is a very lighthearted restaurant. The mood is easygoing
and considerably casual considering its location. The service deserves special acknowledgment,
because our hostess was delightful without crossing that thin line of being intrusive. The rest of the staff were also especially pleasant, offering smiles
and good service throughout.
Residents of Heliopolis should count their blessings. But for more centrally, or westerly located Cairenes, is it worth trekking to Heliopolis just for a
meal at Maria's? With the state of traffic these days, perhaps not. However, we
would be very excited should our paths be sent in that direction, even if it's for
their cocktails and guacamole alone.