Mazmaza: Traditional Oriental Food at Raucous Dokki Restaurant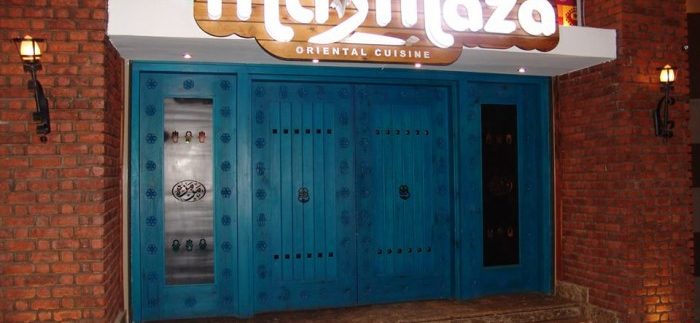 With the increasing surplus of dining options in Cairo, many of the newer places have become rather samey. Dining as an experience is slightly skewed in the capital; why a restaurant would play loud, glaring music or have TV screens is beyond us. Granted, it creates a steady stream of regular visitors, but it cheapens the very notion of a restaurant.
Mazmaza, in Dokki, is one such restaurant.
Occupying a large space on El Thawra Street near the Shooting Club, it's easy to spot the flashy venue with its flamboyant, traditional decor. Vibrant blue doors contrast against wooden furniture with upholstery in any and all colours. Depending on your level of sensory tolerance, this is either a fun and quirky restaurant or a gaudy cave of tackiness.
Without any sort of greeting, we made our way to our seats. Only after we scanned the menu for a few minutes did a waiter show up. The menu features traditional Egyptian dishes like Shin Soup, Molokhia with Rabbits and Liver. We opted for Waraket Lahma (57LE) and a Feteera with Sogok (43LE) as our mains, and a side of Chicken Liver with Pomegranate Molasses (35LE).
The food was served surprisingly fast. The Chicken Liver itself was well cooked and, contrary to most restaurants, was served warm. The vinegar to molasses ratio was, however, quite off, making the dish a little to sweet. The Waraket Lahma — oven roasted veal with vegetables – was seasoned perfectly and cooked well, although said vegetables were potatoes and onions and nothing else. The Feteera with Sogok was not up to par. Despite being generous with toppings, the olives overpowered pretty much everything and left the dish far too salty.
From the dessert menu, we opted for Sweet Potato with Ice Cream (20LE) which, on paper, sounded great. Unfortunately the ice cream was, peculiarly, yoghurt flavoured, and didn't work with the sweet potato at all. It needed something extra, like caramel or nuts to tie the flavours together. Along with the dessert we also ordered a Cappuccino (19LE) and a Lemon and Mint Smoothie (22LE). The coffee was served in a clay mug, which you could taste, and it wasn't pleasant. The smoothie, while delicious, had far too thin a consistency to be called a smoothie.
The biggest problem with Mazmaza was the extremely loud music. You can't hear the person next to you speak, and it became a little nerve-racking. While the food is decent, the actual dining experience falls well short as essentially, it straddles that difficult line between being a restaurant and being a cafe.