Mikado: Express Sushi in Maadi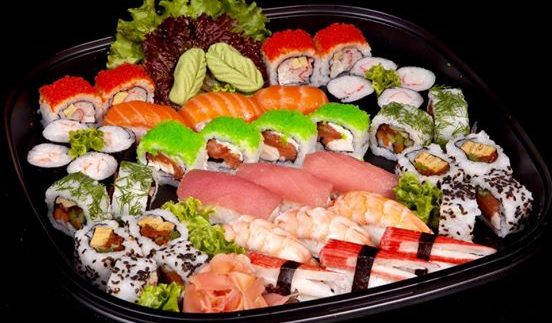 There's an Italian restaurant in Maadi that we've been fans of for quite some time. In our last review, Il Mulino boasted a breezy, comfortable outdoor area, combined with authentic Italian dishes that valiantly tries to stay clear of localisation.
So when we heard it opened up an express sushi centre by the name of Mikado on its premises, frankly, we were a little alarmed.
The concept of Mikado is very much an easy and unfussy express approach to sushi; you needn't bother with a menu or even be that aware of the many different types of the Japanese delicacy. Mikado make ready packaged boxes of 10, 20, and 40 pieces at affordable prices. You can specify if you want them roll based or Nigiri, but you don't have much control besides that.
Curious to see what the selection would be like, as well as just how affordable they are, we opted for an All Rolls 40 Piece (169LE) platter; the 10 piece goes for 59LE and the 20 pieces for 99LE.
The large plastic wrapped platter comes with two soy sauce and two teriyaki sauce dips, as well as the traditional ginger and wasabi. As for the rolls themselves, there were 12 rolls of crab, salmon and shrimp Hosomaki collectively, as well as 28 of their special Uramaki rolls broken down into four Philly Rolls, four Mikado Rolls, four Caterpillar Rolls, four Rainbow Rolls, four California Rolls, four Tamago Rolls and four Green Rolls.
The special Uramaki rolls featured some of the more creative options like the Tamago — a Japaense omelette roll — and the Mikado Roll featuring salmon, mushrooms, cream cheese and green caviar.
Unfortunately, while the sushi was certainly cheaper than practically any other restaurant in Cairo, the quality is somewhat reflected by that. Everything tasted a little stale, and nothing is particularly bursting with flavour – except for possibly the teriyaki sauce.
Sushi, as mentioned before, is a delicacy and the express approach employed by Mikado somewhat diminishes and corrupts the very core of what is an already problematic and difficult food in Cairo.
All in all, there are much better, if more expensive, sushi option around the capital and it isn't the kind of food too skimp on when it comes to cost. Unless you happen to trip and fall into Mikado, Il Mulino's very decent Italian food is a much better and safer option.