Mince: Gourmet Burgers in Heliopolis Just Miss the Mark
The Cairo dining scene is notorious for its quick embracement of food fads; the cupcake, macaroon and sushi trends are just some examples that have occured over the last few years. The latest craze swooping through the nation seems to be that of gourmet junk food with new chains popping up almost every other week.
Mince, one of the strongest contenders in that category, recently opened a second branch in Heliopolis. Needless to say, we had to check out how it compared to the original Zamalek branch.
We instantly fell in love with the simplicity and cosy feel of the venue. Taking the American diner theme and putting a modern spin on it, less tacky fixtures and furniture and an easy-on-the-eyes platinum colour scheme ensures that Mince looks the part.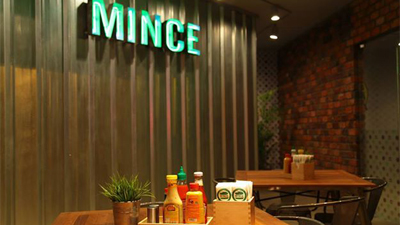 The menu, which was laid down on our chosen table in the outdoor seating area within a few minutes, is anything but boring or cliché. With breakfast specials, starters, salads, burgers, hotdogs, main dishes and dessert options, Mince seemingly has it all. The burgers come in two patty sizes: 170g and 250g. A few unique, not to mention delicious-sounding, options definitely stood out including the Calamari Crispy (44LE), the Smoked Burger (38LE/50LE), featuring raspberry jam as one of its toppings , the Mexican burger (42LE/55LE), with guacamole and sour cream as toppings, and the Veggie sandwich (36LE).
Upon making up our minds, our waiter came by to jot down our order and made sure to ask about how well we wanted our patties to be cooked. Twenty minutes later, our food was laid before us asking to be devoured. The Fries (12LE), which came in an ample amount, were delightfully crisp and non-greasy.
The 170g Mozza Burger (36LE), which consisted of a beef patty topped with fried mozzarella cheese, pickles, tomatoes, onions, lettuce and Mince's signature sauce, was, despite having so many toppings, lacking in any strong flavours. We did however, love the taste of the fried mozzarella added to an otherwise basic burger. The 170g BBQ Special burger (40LE) was, on the other hand, bursting with more flavour perhaps due to its excessive toppings of caramelized onions, bacon, BBQ sauce and American cheese. It's worth noting, however, that the beef patties, in general, needed more seasoning and/or marination.
The service, on an ending note, was notably stellar all throughout our visit, with the waiters always being around to offer refills. The burgers, despite their undeniably good quality, seemed to lack distinctive, hard-to-forget flavours and did come in a limited portion. There's always a danger with small, local restaurants when they expand into other branches; quite often, the elements that made the original so popular are difficult to replicate. In the case of something like the burger patties, however, that shouldn't be the case; a recipe is a recipe. But at the time of our visit, they just simply didn't live up to the expections set by the Zamalek branch.