Mince: Hamburger Central in Zamalek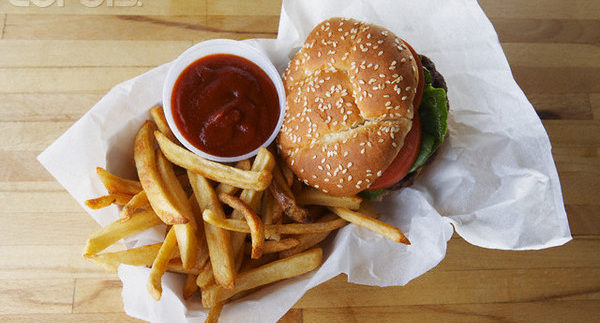 Once upon a time, in the late 19th century, immigrants from Hamburg, Germany made their way to the shores of New York City. A popular food among these travellers was the Hamburg Steak (basically seasoned ground beef). To attract the arriving settlers, New York harbours began offering a little piece of home with steak – cooked 'Hamburg style'. Fast forward over a hundred years, add a bun, ketchup and fries on the side, and welcome the newest kid on the Zamalek food block, hamburger haven, Mince.
On Ahmed Heshmat Street, right next to
Arabica
, Mince is every hamburger lover's dream come true. With corrugated steel and brick walls, an exposed ceiling and glass fa
ç
ade, the place is small but efficient. Step inside and a large overhead blackboard reads the seductive possibilities that await you.
With a chef brought in from London, the choices may feel a little overwhelming at first – but in a good way. Apart from the pre-designed burgers, such as the Mince burger with mushrooms or, more interestingly, the Smoked burger with raspberry jam, caramelised onions and smoked cheese, there's a hefty amount of toppings and dips to choose from.
Jalapeño
s, beef bacon and grilled pineapple (5LE) could liven up your sandwich, just as the mint yoghurt and salsa dips (4LE) could jimmy up your fries, and not just any fries; you can pick from hand-cut and sweet potato (Large, 12LE) or switch it up completely and try the onion rings (Large, 12LE), which come in a light, fluffy batter.
The Veggie burger (26LE) is part of what drew us in to begin with. Is there anywhere in Cairo that makes them? Layered mushrooms, zucchini and peppers covered in goat cheese and pesto, without being minced, it was more of a veggie sandwich than a burger. While the flavours were delectable, it wasn't what we'd hoped for. On the other hand, the signature Mince burger (36LE) was downright scrumptious. Made with imported meat that's never been frozen, topped with fresh mushrooms and Swiss cheese, the patty was cooked to perfection.
The Caribbean burger (28LE) was certainly our most adventurous choice. With mango chutney and mature cheddar cheese for toppings, we were surprised when the burger arrived with chicken instead of beef. After a moment of confusion it was discovered that indeed the sandwich was under 'Chicken' – the blackboard, while aesthetically pleasing and suited to the place, proved to be a little difficult to read. Regardless though, the chicken itself was exceptionally tender and the ingredients bursting with freshness.
Apart from whole salads, such as the Caesar and Mince, coleslaw and potato salad are offered as sides (8LE), where the former looked and tasted homemade.
Actual homemade cookies are available for dessert and come in chocolate chip, double chocolate and salty pecan (10LE) flavours. Moist, rich chocolate and wonderfully interesting salty pecan cookies were diligently taken home.
Thankfully Mince is a no-smoking zone, but a bench placed outside encourages smokers not to feel left out, or hurried to leave after they've eaten. The service at the ordering counter was slightly frustrating; promptness and concentration are vital for a place with a quick turnover and with Mince only just starting up, efficient service is integral to its success.
Mince offers quality burgers with unique toppings and exciting variations. It is the first of its kind and we must say we are extremely pleased to welcome it to the ever-growing food hub that is Zamalek.