MINCE: Zamalek Burger Specialist Still Going Strong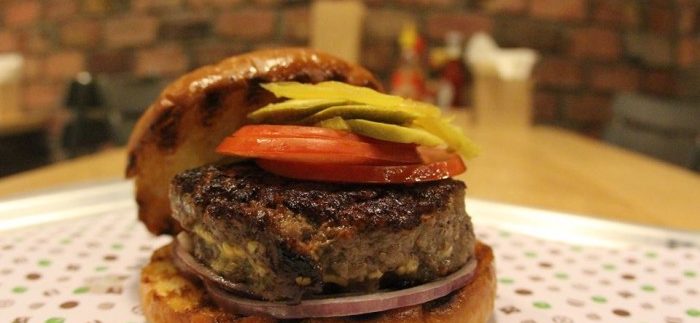 There are more restaurants in Cairo serving burgers than one can count, with more and more supposed burger specialist appearing, each one claiming to be newer, more creative and just plain better. One such place is MINCE, which we returned to after an initial 2012 review.
Located in the heart of Zamalek, MINCE is easy to miss. With very small seating arrangements, burger establishments rely on a fast and high turnover; the food is served fast and it's eaten even faster.
Minimal and raw in design, the exposed ceilings and corrugated steel combined with the red brick walls somehow elevates the experience with its nod to the aesthetics of the Meatpacking District of New York. It's not the first time we've seen this type of decor, if you will, in Cairo, but it works.
We took our seats on the green chairs outside, and quickly decided that, although the variations of toppings are a great luxury at a burger place, we wanted to test the more basic choices. We opted for a Mushroom Burger (38LE) and BBQ special (38LE) both in white buns with sides of hand-cut fries (16LE) and sweet potato fries (12LE).
The waiting time was very short. In their menu, MINCE say they serve their burgers medium for, "added tenderness and flavour." We were intrigued. The inside of a burger patty should be pink. In fact, all meat should be pink on the inside.
We asked for the Mushroom Burger to be cooked medium-well and the BBQ Special medium to get a glimpse of the difference. To get the negative out of the way first, both burgers, unfortunately, arrived well done.
The patty, a 170g chunk of sweet seasoned tenderness – although slightly over-cooked – still retained quite a bit of juice. Burgers that don't run down your hands are not burgers at all; they're char. Though the Mushroom Burgers toppings –Swiss cheese and mushrooms – seem pretty simple in theory, its flavours are not. The combination of the perfectly seasoned mushrooms fusing with melted Swiss cheese and the burger juice makes this, hands down, the best mushroom burger in town.
The BBQ Special, also slightly overcooked but still juicy and seasoned very well, offered a more Tex-Mex approach. Made with caramelized onions, beef bacon, house BBQ sauce and American cheese, was a little juicer thanks to the ingredients.
With such great burgers, there must be really good fries. The hand-cut Fries, cooked with skin on, were crispy on the outside, soft on the inside and salted just right – everything fries should be.
The sweet potato fries, meanwhile, are cut thinner and were both crunchy and sweet, complimenting the burgers very well, and offering an interesting substitute.
All in all, while not much of a place to eat at, one cannot deny the quality in execution of MINCE's burgers. When it comes to quality and consistency, there are few who can compete with MINCE – very few.