Capital Business Park, 26th of July Corridor

Last time we gave Mo Bistro a try was two years ago, and it was one remarkable experience. We mean, we're still daydreaming about their iconic Flank Steak! It's no surprise we were super excited when we heard they've opened a new branch in Sheikh Zayed, and thankfully, it's as good as the original. Located inside Capital Business Park, Mo Bistro used the same furniture as their other branch, and the beautiful greyscale interior. Meanwhile, the outdoor area serves shisha, which might kill the mood if you're only there to dine.
We kicked things off with Turkish Soujouk Mushrooms (85 LE) as an appetiser. Four mushrooms stuffed with flavourful tomato basil sauce, sausage, olives, and topped with melted mozzarella arrived at our table. The whole dish was well presented and full of flavours. However, the quality of the sausage wasn't the best and the texture was a bit grainy.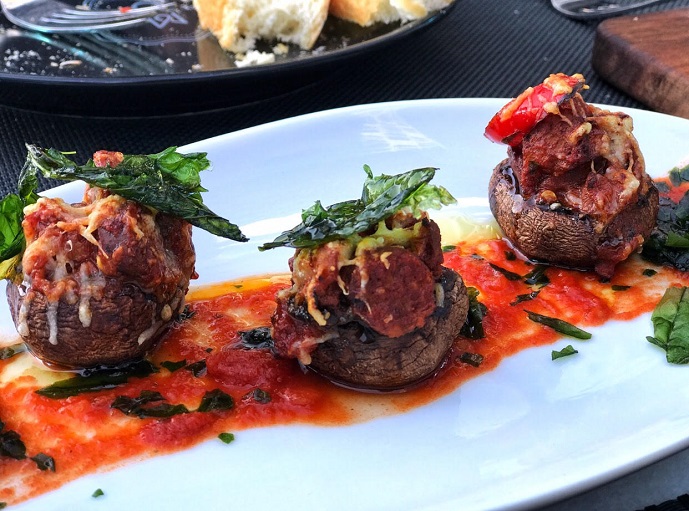 Moving to mains, our first dish was the Beef Fillet Gorgonzola (240 LE) and it was out-of-this-world! The perfectly cooked fillet was topped with a creamy and nutty gorgonzola sauce, and was perfectly complemented by the sweet sides which were the outstanding shredded beetroot and sweet potato chips. We loved the diversity of flavours in the dish and it's definitely not your typical steak experience! The presentation could've been better though.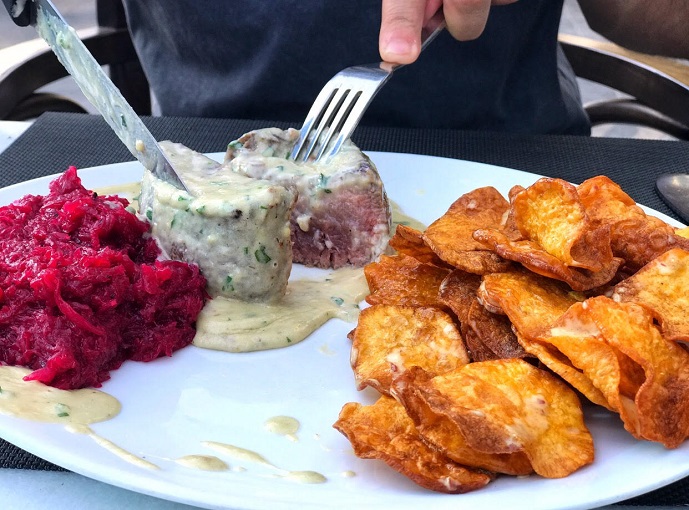 As for our second dish, we went slightly basic with the Sun-dried Tomato Chicken Breast (135 LE). Chicken breasts got a bad rep for being a dry and bland piece of meat, but that wasn't the case with our dish. The chicken was very tender and moist, and the unique sweet/tangy flavours of the sun-dried tomato, capers, and sautéed spinach took the cream sauce from basic to remarkable. Even the side of super smooth mashed potato added a simple touch that made a huge difference, as did the shaved almonds that added a fantastic crunch and boosted the flavours.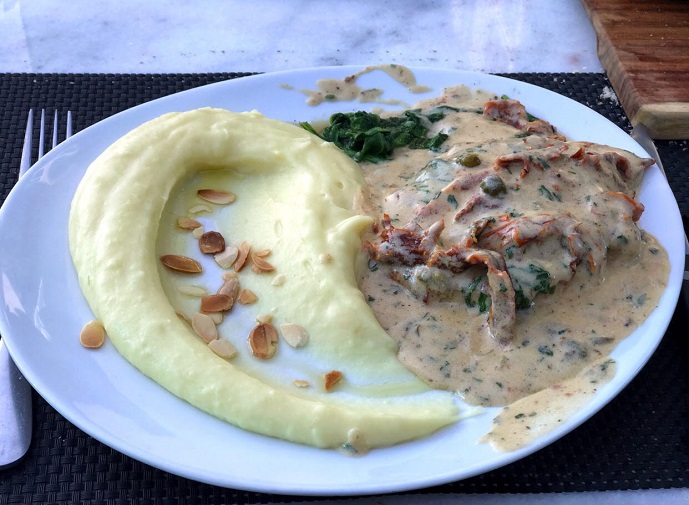 We finished our meal with everyone's favourite, Chocolate Fondant (95 LE). Just like the rest of the items, you should expect something extra in the dessert too. Aside from the fact that the chocolate fondant was beautifully runny from the inside and had a flawless texture, it was served with a quality ice cream which took your everyday dessert to a whole new level of deliciousness.
All in all, we had an incredibly good experience at Mo Bistro. From the fantastic service and the cosy ambience, to the unique flavours and the fantastic quality, we can say that we loved their new branch just as much as their Mohandseen one.