Mori Sushi: Sushi Chain Still One of the Best in Maadi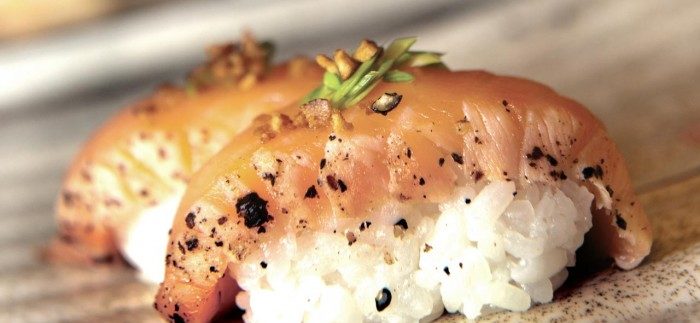 Of the many trends that have boomed across restaurants in Cairo, sushi seems to be one that is here to stay. Having expanded into almost every Asian restaurant, Cairenes' lust for sushi is as strong as ever.
Located on Road 9 in Maadi, Mori Sushi is one of the local favourites. In other branches, Mori offers both a sushi menu and a grill menu, but in Maadi, the grill menu is unavailable.
Mori has built a substantial reputation for itself in serving fresh and tasty sushi, and we were determined to put that to the test of time.
The stylish black, white and orange theme slaps you in the face as soon as you step foot inside the restaurant, where a waiter greeted us at the door, showed us to our seats, and even offered to go through the menu with us.
Mori's sushi selection is vast, so be sure to have a good look through the menu. We opted for three main types the Uramaki – also known as inside out rolls – Hot Rolls – the more filling, fried sushi – and Oishii – or Oshi sushi, the rectangular shaped sushi.
From the Uramaki we opted for the Calamri Roll (40LE per 4 pieces), Crispy Shrimp and Avocado Roll (72 LE per 8 pieces), Hanami Roll (46LE per 4 pieces) and Togarash Roll (37LE per 4 pieces).
From the Hot Rolls we opted for Dynamite Salmon (77LE per 8 pieces), Spicy Lemon (82LE per 6 pieces) and New Hot Roll (54LE per 6 pieces). We also opted for Shrimp Tempura (36LE per 3 pieces) from the Oishii Sushi section.
The presentation was gorgeous; the colourful rolls are all placed in either black or white ceramic serving platters and are swiftly prepared.
Digging into the cold sushi first, the Crispy Shrimp and Avocado is a no-brainer and executed perfectly, while the Hanami and Togarash rolls, combining salmon, avocadoes, shrimp and either cream cheese or mayonnaise, tasted fresh and creamy, but the Calamari Roll wasn't the best, tasting a little bland in comparison to the others. The Oishii Shrimp Tempura, topped with cream cheese, chives and Tabasco sauce, was an interesting mixture of flavours, but a little unusual.
From the Hot Rolls, the Spicy Lemon – one of Mori's most popular orders – lived up to its zesty reputation, the Dynamite Salmon was delicious as the whole roll was fried allowing for the salmon to cook, and the New Hot Roll – topped with teriyaki sauce – was easily the most filling of the whole batch.
A wholesome and enjoyable experience at Mori Sushi may cost you a little extra when compared to other restaurants, but it makes up for with swift service, a clean and warm atmosphere and delicious food.