Mori Sushi: The Little Black Dress of Sushi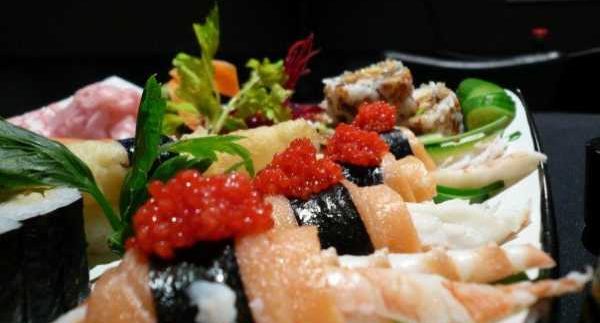 Having lived in the Pacific Rim, any sushi place has a lot to live up to when vying for my attention and a Brazilian-owned fresh fish factory in Egypt did not sound appealing. But Mori does pull it off, and with flare.
My favourite place to go for raw fish, the small corridor just off Zamalek's corniche is styled in modern contemporary fashion with a chic black interior, leather chairs, glass tables, wire-framed mirrors and sweeping Japanese characters on the walls and ceiling to accent the theme. Ordering from the cool orange plexiglass spiral-bound menu makes my mouth water with its tasty sushi dishes artfully photographed for display.
What really caught my eye was the chef's creativity, assembling sushi pieces I hadn't seen before, and though he gets a little carried away with the cream cheese, some of the flavour combinations are spectacular, like the crisp of shrimp and avocado roll, coated in sweet rice crisps and drizzled with syrupy teriyaki style sauce. Even the classic maki are fresh and simple, showcasing quality ingredients and expertise.
There are, however, some experiments to avoid testing, like the ura roll called the pink panther, featuring a minced crab paste that looks like someone's already got to it before you did.
Thankfully their desserts are on point and I sometimes visit just to treat myself to their Swiss chocolate fondant with real vanilla bean ice cream. It rivals Café Tabasco's melty chocolate soufflé, and in my opinion, wins. Their fruit cocktails are also interesting but cost as much as a small meal elsewhere.
Unfortunately, Mori isn't cheap and a satisfying meal requires that you drop 150-200LE at least, which doesn't seem a problem for UGG clad international school birthday parties blasting Imogen Heap – I thought The OC was cancelled. It does however satisfy my sushi fix, which is the only thing I really miss about home, the servers are extra polite, and even Sequoia has deemed them worthy of their menu.