Mr Wok: Chinese Street Food in Zamalek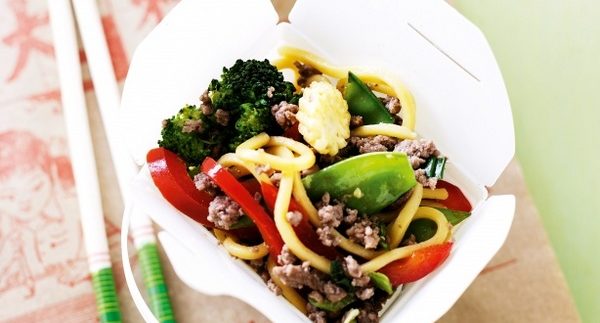 From the brains behind Zamalek fast-food ventures
Top Dawgs
and
Ali Baba
, comes their latest gastronomy scheme to land on the sandy streets of Cairo. Mr Wok, as you might imagine, specialises in Asian cuisine of a particular kind; stir fry takeaway.
The shop itself is incredibly petite, though the kitchen manages to accommodate what seems like an army of stone-faced, ninja-speed chefs. The remaining space allows no more than three hungry patrons to line up in single-file with queues inevitably spilling out onto the street, where a few tables and chairs are neatly organised.
The process of deciding and ordering your food will at first seem a daunting task, though once you get into the swing of mixing-and-matching, the process becomes part of the charm of Mr Wok. After choosing your base, you're encouraged to add no more than four extras – though they're happy to oblige any kind of Frankenstein creation.
Beef, chicken, smoked duck, prawn and tofu cover the meat options, while everything from cashews and crushed peanuts to broccoli, pineapple and bamboo shoots are available for you to lace into your design, which is then polished off with a sauce – free of charge.
Sauce choices are suitably eclectic, with everything from sweet and sour to Szechuan on offer.
This is not strictly Chinese though. A serving made of jasmine rice (26LE), tofu (15LE), peppers (3LE) and pattaya sauce (Thai green curry sauce) made for a spicy curry delight, although it all felt a bit heavy and dry. The fresh peppers remedied that to an extent, but the tofu was cut up in such small segments that it slowly vanished into the rice with every stir. The lack of sauce and the subsequent extensive stirring to utilise said lacking sauce eventually turned the rice into a dry pulp. It's a shame because it was ringing with flavour.
This wasn't a problem for the udon noodles (31LE), which when matched up with beef (8LE), broccoli (3LE), fried onion (2LE) and soho sauce (toasted sesame sauce) went down a treat. The disappointment of the absent cashew nuts and the fact that most of the broccoli came in the form of one large stalk were only further compounded by an excessive amount of the otherwise fragrant toasted sesame sauce.
Similar sentiments apply to beef and soho sauce with egg noodles (26LE). The noodles were again cooked perfectly and the addition of shitake mushrooms (7LE) only sweetened the deal.
The cleverly assembled boxes that the food is served in are pretty robust and are designed as to not allow any sort of leakage. Those who aren't versed in the art of chopsticks are spared the indignity of stain-on-shirt-embarrassment and provided with adequate plastic cutlery.
Mr Wok is by no means revolutionising dining in Cairo; prices are very steep for what, at the end of the day, is a brand of fast food that anywhere else in the world would be dirt cheap – but it does back up its gimmick with some substance.
This is far from being the highest quality Chinese you can find in the city, but maybe it's not meant to be. It's quick, easy, filling; the three pillars of fast-food.