Munchies: A Few Carbs Can Go A Long Way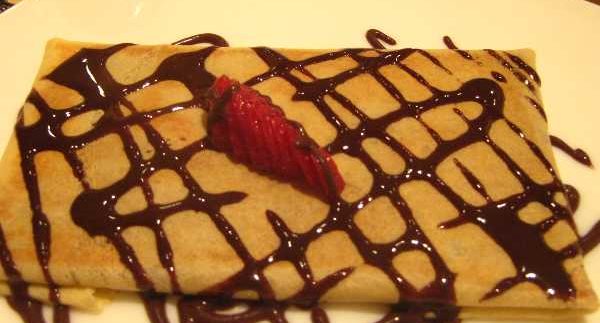 There's nothing quite like a stack of hot, fresh pancakes slathered in syrup to start your day; especially if it's going to be a long one and you need your dose of heavenly, unhealthy carbs.

Zamalek residents will be happy to hear that a new pancake place is in town. Munchies: Cupz and Crêpes is located on Taha Hussein St. next to the equally dangerous Pumpkin cake store.

The tiny café can be forgiven for the cutesy misspelling of its slogan, which it compensates for by making fresh crêpes, waffles and pancakes served by friendly staff.

The problem with Munchies, though, is that its interior is too small and too clumsily arranged to allow for a long, extended carb fest. There are only three high tables with uncomfortably high chairs that squeak with every move. However, the incessant squeaking does prove to be quite entertaining while waiting for your pancakes to arrive. The store's wall is decked with a large, multi-shelf display carrying pancake ingredients such as Kitkats, marshmallows, Flake bars and other tempting chocolate treats.

For something a little salty, the Munchies cheese crêpe came piping hot and overflowing with melted mozzarella, cheddar and a touch of oregano. It was definitely filling but not exactly exciting.

For the more sweet-inclined, three plain pancakes covered in maple syrup and butter are a great breakfast choice, though they look nothing like the picture in the menu and pale in comparison to the texture and taste of pancake greats such as Lucille's.

For side orders with the pancakes, you can choose between a plate of bananas, caramel and pecans; or a plate of strawberries and whipped cream. While both options sounded attractive, the bananas, caramel and pecans blended better with the maple syrup. The only complaint is that they could have been more generous with the syrup and caramel sauce– we like our pancakes swimming in butter and syrup.

If you are feeling a little dangerous, try the Amore crêpe. This folded crêpe comes bursting with Nutella, strawberries and whipped cream; a combination that should seriously be illegal. Digesting this feast will require loose trousers and possibly a brisk walk around the neighbourhood afterwards.

If cr ê pes and pancakes are not your thing, Munchies also offers readily-packaged salads such as the mandatory Greek salad, as well as a few baguette sandwiches on display in the store fridge. While these items pale in comparison to the fresh pancakes, they'd be great options if you need to grab a quick bite to go.

For the ethical coffee drinkers, Munchies sells 100% responsibly grown and ethically traded coffee. The cappuccino is made from Lavazza coffee and is not-too strong, not-too milky; just the right mix.

Cr ê pes and pancakes range between 20LE to 30LE, while sandwiches and salads average around 20LE.