Murphy's Sandwiches: Convenient Wraps in Maadi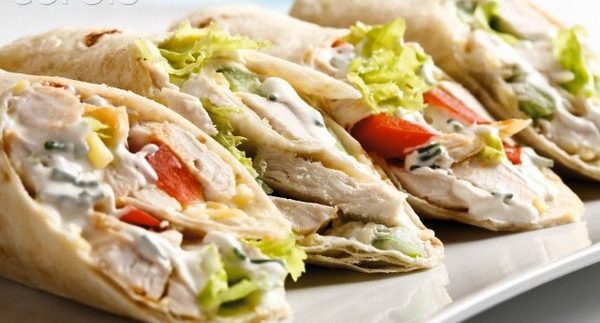 On one of the many quiet side roads in Maadi sits a very small but adequate sandwich shop, Murphy's. In front of the restaurant is a modern patio area with the only available seating; two little garden tables with a few chairs, suggesting that delivery or take-away may be the better option if it's busy. Despite it's size, this – and the shop's glass front – creates a nice first impression.
Entering Murphy's is like entering a kitchen, with just a small food counter separating you and the chef. Following suit, the menu is also small but does have a pretty good selection of wraps, 'Grilledogs', sides, extras and sauces, drinks and desserts. We were bewildered at how Murphy's can claim to be Maadi's only sandwich place, when there was not one conventional sarnie in sight.
Sceptically, we ordered one fried chicken wrap with sweet and sour sauce (20LE), a large Original Grilledog (21LE), a side of cheese fries (9LE) and a Nutella with hazelnut wrap (12LE) to end on. The drinks fridge is filled with all the usual, and some unusual sodas. They also serve slushies from the famous Noisy Drinks Company (12LE). Amazingly, this place afforded us a quick meal for two, for under 100LE.
Our food arrived, including the desert wrap, at more or less the same time. At first glance, we were slightly disappointed as the chicken wrap and Grilledog didn't look anywhere near big enough to satisfy our hunger. On the other hand, the fries portion was both tasty and generous, but was splattered with a cheese sauce, rather than real melted cheese. The wrapping of our food was indeed, as it states on the menu, convenient – especially if we had been on the move. The paper was thick and strong to avoid any leakages and the wrap was wrapped tightly to ensure it didn't fall apart in your hands.
Both the wrap and the Grilledog were crispy from the griddle, and, regardless of their size, tasted delicious and even managed to fill us up – we were reminded that good things often come in small packages. The fried chicken wrap was packed with fresh lettuce and juicy bread-crumbed fillets. We were also particularly pleased with our choice of sweet & sour which was a little bit tangy from the chilli bits. The Grilledog was exactly as hot dogs are supposed to be; a large pink frankfurter in a warm, perfectly fitting, soft bun, covered in lashings of relish, mustard and ketchup with the added bonus of fried onions and cheese.
After giving ourselves a moment to digest the savoury part, we contentedly opened our Nutella wrap. The luscious, thick, Nutella spread was combined with hazelnut pieces and was absolutely delicious. Unfortunately, instead of being golden from toasting, the bread was slightly overdone and occasionally tasted of charcoal – but still, we would have ordered one each if we thought we could fit them in.
In the case of eating in, Murphy's itself is a charming little eatery in a quiet, relaxing road. However, the food is perfectly wrapped for delivery and take away. If you're at a loss as to what to order at lunch time and fancy something a bit different to the existing fast food chains, we would highly recommend Murphy's 'sandwiches'.