My Queen: Low-Budget, Late-Night Laziness
2b El Shark Lel Ta'meen Bldgs.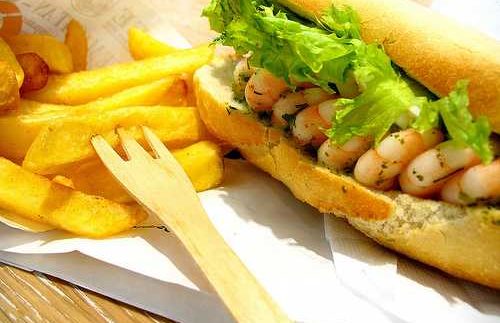 It's a typical Cairo night, where 1AM rolls
around and the munchies settle in. The idea of actually being proactive
about it and leaving the house to grab a bite sends you directly back
into your previous state of typical comatose. In such a case, delivery is always
an option in Cairo
but as you've only got a few LE to spare; options are rather limited.
My Queen is a perpetually
well-known option in Cairo
for when the going gets tough. Although delivery is available to nearby Cairo neighbourhoods, My Queen offers another service at its
Mohandiseen and Nasr City
locations: park your car next to the
take-out restaurant and wait for them to come to you; a tray is simply attached
to your window and you're good to go.
My Queen's roadside
restaurant is nothing more than a simple street cart with a few tables and
chairs outside for a come-and-go kind of dining. While the extensive menu
covers everything from soups to reasonably priced seafood; we've never been
daring enough to go further with the seafood then the basic shrimp.
The chicken cream soup costs
only 6LE, which may explain why very little chicken is present. Nonetheless,
the heavy cream is soothing when you're looking for a little comfort. Other
soups include the traditional orzo soup (lessan asfour) and the creamy
mushroom.
For 8.25LE, My Queen's dolmah is enough to send
any mahshi lover into a happy state of shock. The plate comes filled with
stuffed vine leaves, cabbage leaves, green peppers and eggplants. The vine
leaves happen to be our favourite, as other restaurants make the dish slightly
more on the greasy side and they can be difficult to tackle.
My Queen doesn't disappoint in sandwich options
either, offering shawerma and sausage options. The fried shrimp sandwich is addictive.
For approximately 10LE, a large amount of breaded shrimp comes with garlic dip
and shredded salad, perfectly contained in fresh shami bread.
If you're looking for a well-rounded budget meal,
My Queen offers an assortment of platters including maa'loubah, veal and shish tawouk
with sides of rice and garlic dip, all ranging from 18LE to 30LE. The shish tawouk
is always tender and the savoury basmati rice pairs well with the grilled
chicken.
For endless options and a late-night eat, you
can't go wrong with My Queen. As this is a roadside stall, though; don't expect
the cleanest of dining venues.