Nawab: Fabulous Indian Packs a Flavourful Punch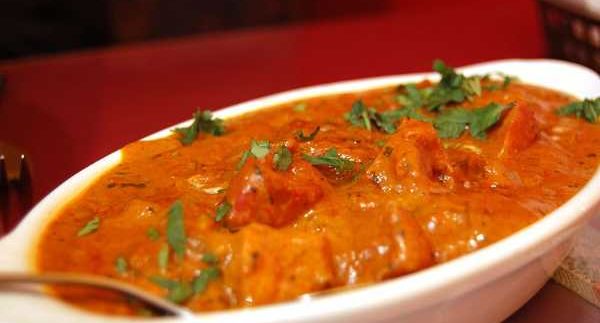 The first thing that hits you as you walk through the glass doors of this 3-month-old Indian restaurant is the smell. It's what one would expect India to smell like; thick with the aromas of food and spices. The husband and wife team behind this new venue have a goal of showcasing the highlights of Mughali and North Indian cuisine, and they do so brilliantly.
Jumping to welcome us inside, the manager lead our dinner party of two to a booth for six. We hadn't made a reservation but were still surprised and saddened to find the pleasant place empty. Regardless, we were comfortable in the neatly spaced modern interior, and settled in to watching glimpses of the Bollywood movies playing on their two flat-screen TVs.
We were promptly presented with menus; and the selection was a little mind-boggling – everything sounded so good and varied. When we couldn't make up our minds by the time the manager returned to take our order, we asked for his help in picking out their specialties.
He started us with hare bhare kabab off their special menu, followed by the chicken butter masala and the lamb korma dilpasand. A plain rice pilau and garlic butter naan accompanied the meal.
The hare bhare kabab was a surprisingly lovely dish. The bright green vegetable fritters of mashed spinach, cauliflower, peas and beans garnished with sweet cashew nuts and accompanied by refreshingly flavourful mint and tamarind sauces were the perfect way to whet our appetites. This reviewer only wanted more of them.
The butter chicken was fabulous: large pieces of succulent chicken in a chunky sauce of tomatoes and cilantro hit all the right notes and made for some seriously amazing naan-sopping. The lamb korma dilpasand came in a nut-yoghurt sauce that was slightly sweet and featured plump juicy raisins and melt-in-your-mouth pieces of lamb.
Our side orders of rice and naan were equally delectable. The basmati rice was mixed with crispy onions, shredded carrots and aromatic spices, while the naan bread was chewy, buttery, light and flaky; as it should be.
The care and effort that this restaurant places in its food is obvious; and it reflects in both the food's quality and the quick, kind and gracious service.
Though we were stuffed, the manager recommended the Barfi; sweet milk cakes of ground coconut and cardamom, and pistachio nuts garnished with flakes of silver. A nice change from the over-processed typically western desserts some of us are used to; they were a lovely way to round out a thoroughly enjoyable meal.
At 170LE for a dinner for two, Nawab is an insanely good value for money. Their menu is also very helpfully in English and Arabic and they do offer delivery as well, customizing spiciness to your heart's content.