Nawab: Zamalek's Beloved Indian is Still the Best in Cairo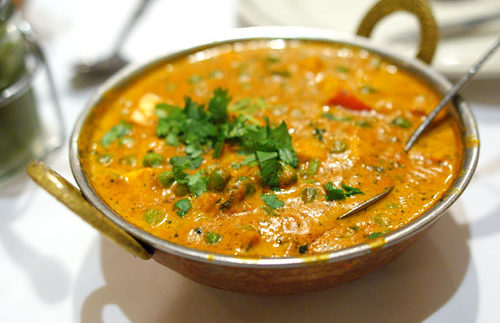 Even with an exterior appearance that looks
more like a barbershop than a place of gastronomy, Zamalek's premier Indian
restaurant Nawab has always had a place in many a Cairene heart. As with many ethnic
cuisines in this schizophrenically consistent city, purveyors of good,
reasonably priced Indian food are few and far between. Nawab's slight new look, kitchen and considerate
staff make a good go of filling that most desperate of needs.
Although Nawab conveniently provides home
delivery, the food never seems quite as good as when you occupy the restaurant
itself. Why? No one knows. It can't be the rather drab decor or the feeble
attempt at infusing the place with an air of authenticity by playing Bollywood
films and music videos. Whatever the reason, eating out is as much about the
feeding all five senses anyway.
Dinner began with an order of vegetable
sambousak (12LE). Presented with two saucers of dips, the two pieces of
sambousak were bursting with well cooked vegetables, although they were a
little cold. The yoghurt, cucumber and mint dip clashed with the vegetables,
while the tamarind dip was sweet with a bitter kick; a perfect foil to the rich
pastry of the sambousak.
Late in its arrival, the prawns pakora
(27LE) fell short of the other appetiser. Though it was served sizzling hot,
the deep-fried pieces lacked seasoning and weren't as agreeable to the
complement of the dips as the sambousak was.
Luckily though, the mains blew away any
dissatisfaction. An extraordinarily creamy khoya mutter paneer (33LE) tasted
great with both garlic butter naan bread (8LE) and jeera rice (17LE). Although the meat of the dish, so to speak,
is the paneer cheese, it's the incredible gravy that makes it one of the best Indian dishes on the menu. The plain tasting paneer, which falls somewhere between
halloumi and cottage cheese, added little to the dish, whereas the cashews and
peas added a texture to the gravy. It
complimented the sharp cumin of the jeera rice and the crunchy flakes and soft
centre of the naan bread perfectly.
As did the lamb kadai (60LE), which is one
of the more expensive items on the menu. Although the decent-sized pieces of
lamb ranged from slightly dry to melt-in-your-mouth tender, the crimson massala
sauce gave the dish a spicy tang. It's also one of the sexiest looking dishes
you'll ever see.
Stumbling out of Nawab with a full-belly-induced
limp and a slight throb of spice on your tongue, the only regret is that
this marvellous restaurant doesn't serve alcohol. Because everyone knows that
nothing goes better with a curry than an ice-cold beer.