Nile Bukhara: Dine like Indian Royalty
43 Misr Helwan Agriculture Rd.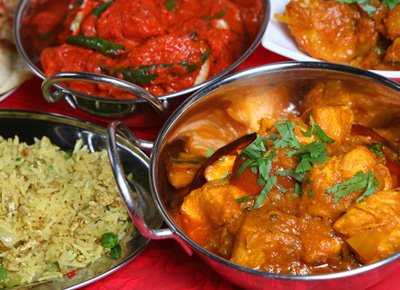 Nile Bukhara is unique if nothing else. Step inside on a sunny afternoon and you'll find a dimly lit room where atmospheric sitar music plays in the background. A window to the kitchen allows diners to view Indian chefs working over the grill as they create the mouth-watering cuisine from the subcontinent.
The menu, printed on double sided wooden tablets, always reminds me of the Stone Age as I scrutinise selections of biryani, chapati, tandoori and various rhotis and naan, inevitably ordering the Bukkhara Butter Chicken, a time honoured personal favourite. The tender chicken in a rich tomato-based sauce arrives in a cast copper bowl, and is best when paired with either rice or naan.
Sensitive-tongued diners beware: Bukhara is one of the few restaurants around that actually means "spicy" when it says it, so choose your level of flavours wisely. Instead of the usual bread before meals, diners are served chutney and flaky popadoms, along with potent pickled onion. Again, spice and flavours abound here, and the vivid magenta onion and green chutney make the sombre hues of the restaurant all the more apparent.
A compliment to the restaurant: this is a place where I hardly recall the waiter, being so engrossed in the food, which always seems to arrive on time (poof!). My preoccupation with the napkins might contribute to overlooking the staff, as the chequered clothes unfold into bibs, which I suggest you don if you are as enthusiastic (or clumsy) around curry as I am.
While I am adamant about the Butter Chicken being the best pick of the menu, there is little I would write out. The biryani rice is flavourful, with a complex mix of sweet and citrus spices. Vegetarian options are plentiful, the Aloo Ghobi and Palak Paneer giving a well rounded taste of Northern Indian cuisine. The naan could be more generous and dessert is not the restaurant's forte, but the main dishes make up for that shortcoming.
Bukhara's prices aren't too shabby, and it is possible to eat yourself into a stupor for near 75LE to 100LE.