Nile Bukhara: Vegetarian Fetar Alternative in Maadi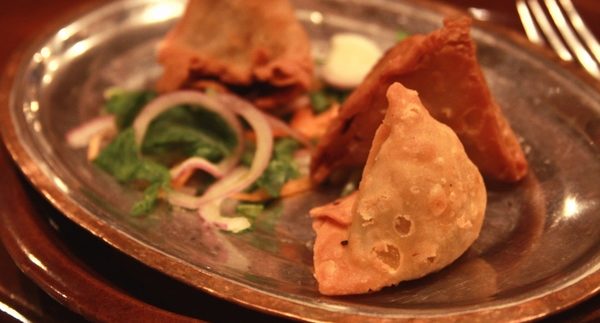 Veggie options for fetar are far and foul in the city, where vegetarians are limited to garnish. Always the side, never the main, it isn't fair for herbivores to lap up a bill for a buffet or table d'hôte specialized in surf or turf and keep to the salads and desserts. Fortunately, Nile Bukhara in Maadi is devoted to affordable, meat-free feasts.
The favoured destination for authentic North Indian cuisine offers set menus that make the perfect alternative to a typical fetar meal. We chose the vegetarian tour for two (139LE) and picked a few plates from the non-vegetarian set menu to sample.
Courses at Nile Bukhara begin with an amuse bouche to open the senses. Ours kicked off with a bite: a plate of pickled onions paired with a fresh mint vinaigrette. As soon as we were pickled out, a medley of colourful curries covered our table including vegetarian classics like aloo mutter (potato and peas), dal (lentils), and palak paneer (spinach and fresh cheese).
Aloo mutter stirs in cubed potatoes and peas in a hearty tomato stew more savoury than sweet, while the dal curry, a lentil-based hotpot, left our bellies warm and filled. The palak paneer, however, fell short of our expectations. Flavourful, the blended spinach reduction was on par with palaks from the Subcontinent, but the sliced paneer held a rubbery texture. The perfect paneer is pan-fried often to a golden hue and maintains a creamy centre.
To soak up the curry, an assortment of carbs—papadum, pullao, samosas, and naan—is within hands-reach. Thin, spicy papadum crisps can be an oily disappointment, but Bukhara's is dry, as it should be, and when broken over the fluffy rice grains of Indian basmati pullao and peas, is a crunchy, appetising topping.
Bukhara's vegetable samosas are pyramid pockets that point to the heavens. The popular street food and tiffin (a light lunch in India) are a fried pastry packed with a batter of pre-cooked potatoes, peas, and spices, but would be better served with a sauce or mango chutney. Take caution; devour slowly. The stuffing is usually piping hot.
From the tandoori kitchen, in plain view from our seats, New Delhi native Chef Rana dishes out the baked and barbecued delicacies from the cylindrical, clay oven representative of South Asia. Rana stretches naan dough to an oblong shape, presses the round against the walls of the tandoori oven until flaky, and brushes the flat bread with melted butter. With a slightly sweet end, the Indian staple mops up our plates.
Omnivores dining-in may want to order a side or two. We recommend the kebab platter (61LE) or murgh makhani (55LE). The platter features tandoori specialties like malai kofte (minced chicken rolled and baked), chicken tikka (barbecued chicken), and reshmi kebab (a succulent pieces of skewered chicken). The murgh makhani cooks morsels of chicken until tender in a thick, tomato gravy.
For dessert, we opted for the gulab jamun, a warm fried ball soaked in a rose-water syrup. One or two of these delectable treats is more than enough for a saccharin high for two.
The heat at Bukhara is noticeably tempered for local taste buds. Setting-wise, the wooden fixtures, dimmed lighting, and anodyne tunes are out-dated but cozy.
Into the last week of Ramadan fetars, spice it up a bit and go Indian at the twenty-year-old Nile Bukhara, where friendly servers have yet to be jaded and where we're never too old for the well-needed bib.