Nile Fish: Grilled in Downtown
25 Abdel Hady Bldg., El Bostan St.,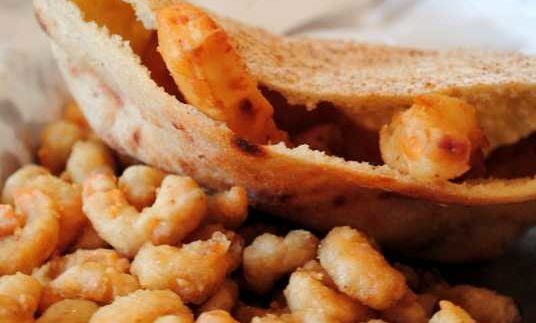 The promise of good seafood in Cairo often fails to deliver. Nile Fish
is one of a plethora of seafood restaurants in Cairo making that promise: what it serves is very
good grilled fish and rather poor fried fish in a somewhat shabby setting in Downtown
Cairo.
Located just off of Falaki
Square, Nile Fish is a convenient place to grab a bite
to eat after going for a Stella at El
Horreya or a shisha near Borsa
Café. Unfortunately, the interior of the restaurant is rather uninviting.
The downstairs dining room is cluttered and in need of a window, and the dark
colours of the walls and furnishings along with the florescent lighting create
a dreary atmosphere.
Although the restaurant's name is
Nile Fish, the fish themselves are thankfully not actually from the polluted
Nile: most are delivered frozen from Alexandria,
which is about as fresh as you can safely hope for in Cairo.
The menu is fairly simple and only available in Arabic. It consists of a
selection of grilled seafood, fried seafood, seafood sandwiches, salads, a soup
and baked macaroni. The seven different types of grilled fish are competitively
priced between 60LE and 120LE a kilo.
Everybody knows that fried food needs to be served immediately; but for some
reason, Nile Fish chooses not to follow this important rule. All the fried seafood
is lukewarm at best, sitting in greasy, pre-fried piles when you arrive. As a
result, the batter on the fried shrimp and calamari is oily and soggy, having
completely lost its crunch. The calamari itself is surprisingly tender, and
there is a good amount of seasoning and salt in the batter. Eating cold and
soggy fried seafood is never appetising, though.
Nile Fish's baked macaroni with gooey béchamel is just average. It tends
to be very heavy and would benefit from more seasoning.
In complete contrast to the fried seafood, the grilled sea bass is splendid.
First stuffed with chopped onions, the bass cooks on a large grill and is occasionally
basted with a chilli-scented and minced garlic broth. The chef takes care to
ensure that the fish skin is crispy and the flesh is flaky before removing the
fish from the searing hot grill and serving it whole. The pungent flavours of
the garlic, chilli and onion enhance but do not overpower the fresh flavour of
the fish.
Nile Fish may lack in ambiance and serve very mediocre fried
seafood, but this reviewer would return for another taste of their grilled
whole fish.